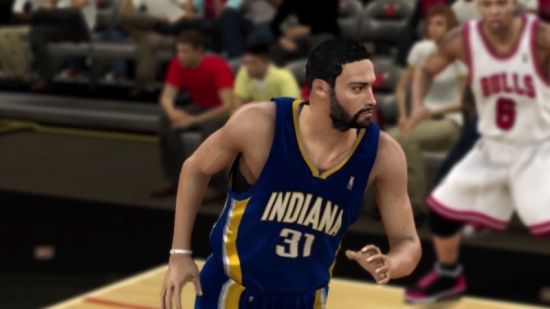 2K Sports has spent a great deal of effort hyping up the improvements to My Player mode for NBA 2K12. While there are a few worthwhile additions there are numerous fundamental flaws that are impossible to ignore. My Player remains one of the better career modes in sports gaming considering what it attempts but the on-court experience is still lacking and the trade logic is beyond troubled marring the overall experience significantly. 
Notable additions this year include the NBA Draft featuring the voice of David Stern, pre-draft interviews, and player contracts. They are effective to an extent in what they are meant to do – create more of an attachment to your player and better replicate the actual experience of being in the league. In particular I enjoyed the pre-draft interviews as teams gave a fair assessment of their current circumstances and what they were looking for – with the opportunity to sway their opinion one way or the other.
The one-game "Rookie Showcase" is a chance to affect draft stock. I found it ironic that the announcers actually say that one game shouldn't determine a player's worth but that essentially is what 2K is doing here. It's a lot of pressure given the circumstances and how My Player grades out a performance though ultimately it may not produce much of a swing one way or the other.
This year your My Player starts right away in the NBA and with more reasonable attributes – both being a step in the right direction. Starting at a 60 overall at least provides the opportunity to compete, though there are still some particular attributes that are quite low for a professional player that is being touted throughout the mode as a superstar in the making.
Though the mode is still locked to 82 games a new feature is "Play Next Key Game" which helps to speed through the season. More variety in games chosen is desperately needed though – for the Pacers it could be called "Play Pistons or Bulls" because those are the only match-ups ever presented. It gets boring playing the same teams over and over.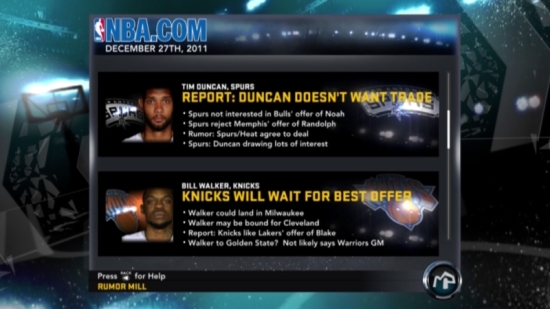 Where My Player in NBA 2K12 really starts to sink is the trade logic – your team's roster and much of the league will see huge turnover after a month or two and that churn won't stop. There are some terrible trades made and rosters become completely unrecognizable. This is noticed immediately through your team's lineup which changes drastically but big names across the league get moved around like it's no big deal. In fact what I have seen in my play-time pales in comparison to reports from others of trades made in their My Player's.
One month in with the Pacers and the starting lineup had become: Al Horford, Andrew Bynum, Danhtay Jones, Jamal Crawford, and George Hill. By February the starting lineup was: Horford, Bynum, James Posey, Crawford, and Raymond Felton. The guy who I was supposed to learn from that talked up by the GM at the draft, Danny Granger, was shipped out almost immediately into the season.
The trade logic in Association mode is bad but seems even worse in My Player for whatever reason. Join the Knicks and find Carmelo and Amare shipped out. Play for the Bulls and see Derrick Rose sent away. Excited to play alongside Kevin Durant? Don't expect it to last.
No matter how important the player is to the franchise they'll be traded. Teams are fundamentally altered across the league and some end up stacked in one position and completely lacking in others due to their moves. It was also questionable to say the least that the very first transaction of the year was the Trailblazers signing Greg Oden to a 6 year deal for $63 million.
The mode would certainly be more compelling if entering the league with other real rookies. Unfortunately the lockout has prevented that – but 2K's decision not to place any of the fake "drafted" rookies on rosters is a real head-scratcher. Beyond other teams in the league not being infused with new talent it means Ricky Rubio is the only competition for rookie awards – and with my being in the Eastern Conference I won Rookie of the Month honors every, single, month – despite averaging 5.9 pts, 2.4 rbs, and about 7 minutes a game and rarely appearing in a 4th quarter. I have to question even why he's at press conferences answering questions like he's the team leader. It all just doesn't line up and needs to be more dynamic based on the current context of stature on the team and within the league.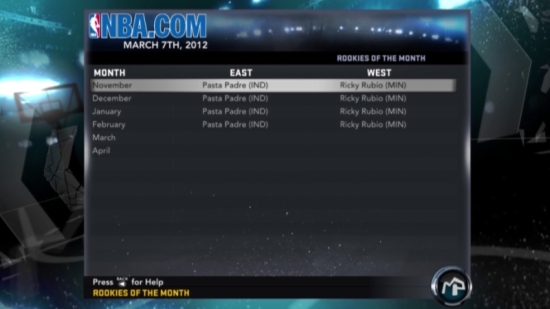 On the court there are problems as well. There is some framerate slowdown – not as bad as year's past but still irritating. It is difficult moving around as other players are practically brick walls and it's nearly impossible to find a way to get an opportunity at an offensive rebound (a slasher was probably a bad player style to choose), layups are missed too often, T.J. Ford tries to post up Joakim Noah quite a bit too which is puzzling. AI of CPU controlled teammates could use some help. The grading of performance remains largely frustrating though it has eased off a bit – still starting at a C grade while having little playing time makes that a battle that usually can't be won. "Bad Call for Pass" is my least favorite action that hurts the teammate grade since I get knocked for it sometimes on accident when just trying to speed through a replay.
Also of note are several reports that upon winning the championship the mode freezes and there is no way to progress beyond it. Presentation wise things like the halftime report and quarter breaks would probably be better off removed in favor of reduced time commitment and relevance.
With 2K having removed Crew and My Player pickup modes online that will affect longevity for those who built up players in order to use them in that capacity. It looks like the paid downloadable content will offer some ability to use them online but that doesn't necessarily mean it will be a full fledged mode on par with the options in the past.
The absurd trades in My Player mode are the biggest issue but the on-court experience is also too often frustrating to overlook. While My Player remains one of the better designed career modes out there, at least in regards to features attempting to provide fuller immersion, the execution this year is sorely lacking.
Previous: Online Problems – Online Association – NBA's Greatest – Regarding the Uproar
Upcoming Coverage: Online Play (Tuesday), Hits and Misses Review (Wed or Fri)