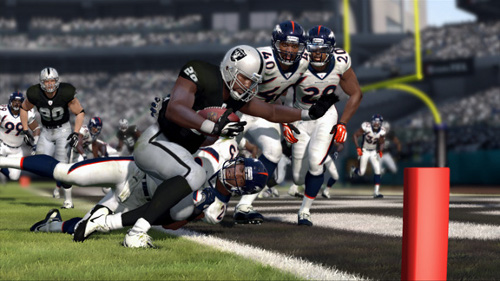 The first comprehensive post-release patch for Madden NFL 12 is out now for both the Xbox 360 and PS3. The timing of the arrival falls in line with recent years – about six weeks after release of the game. The patch addresses many of the gripes had with Madden 12 including frequent rain for certain teams in Franchise mode, better organization of custom playbooks, a fix to a QB sneak exploit, edited players no longer losing their "roles" in Franchise, and some work has been done on the commentary.
Early reports are the cited improvements (found here with the full list of patch details) are effective though somewhat limited in their impact. As discussed previously the commentary was one area to keep expectations of enhancements low – and it seems as though accuracy and the delay of the calls has been made just marginally better. The biggest relief will come to those using the handful of teams that were stuck with primarily rain-games in Franchise and on the PS3 where the field textures have been brought more in line with the quality seen on the 360. Unfortunately as it pertains to Custom Playbooks brand new ones must be made in order for the proper organization to take place as the patch will not correct the layouts of ones made prior.
Leave your thoughts and observations of the Madden 12 patch in the comments – and look for a fuller evaluation on its impact in the coming days.