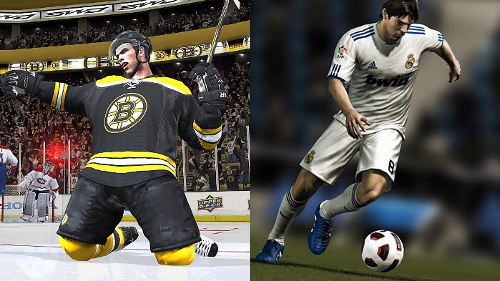 Amazon is running a deal until November 5th where buying 2 video games will get the 3rd free (among those specifically qualified) – and several sports titles are joined by recent high profile releases such as Battlefield 3 (just added), Batman: Arkham City, Gears of War 3, Dance Central 2, Dark Souls, Uncharted 3 (just added), Resistance 3, and Rage. Below are the more prominent sports offerings available in the offer – with there also being some older/less desirable options in the mix. There are some differences in which ones are available for each console.
Xbox 360: Kinect Sports: Season Two, FIFA 12, NHL 12, Jonah Lomu: Rugby Challenge, Michael Phelps: Push the Limit, Supremacy MMA, UFC 2010, Fight Night Round 4, The BIGS 2.
PS3: NHL 12, Madden NFL 12 Hall of Fame Edition, Tiger Woods PGA Tour 12: The Masters (Move Bundle), Tiger Woods PGA Tour 12 Collectors Edition, NBA Jam, Fight Night Champion, Skate 3, THE BIGS 2
Wii: Madden 12, NBA 2K12, Punch-Out, MLB 2K11, Nascar 2011, Virtua Tennis 4
If you're waiting on a single title and have already let the time pass since release it may be better to hold off for a Black Friday deal. However if there are several of interest in this batch it could be something to consider.