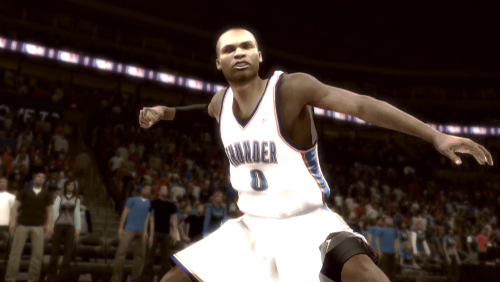 The latest patch for NBA 2K12, that arrived last week for the PS3, has gone live today for the Xbox 360. This particular update was pushed out to address some of the more pressing issues with gameplay and online – and impressions of its impact from the PS3 side have been mixed. Encouragingly it hasn't seemed to introduce any new issues to deal with at the very least.
Most are finding online games are connecting quicker but not much improvement to online performance and stability otherwise. The reduced 3pt shot percentages are a relief but users are still spamming steal attempts as the risk of a foul isn't high enough to be a deterrent – while the AI does seem to handle defensive rotations better now. A more substantial patch for NBA 2K12 is expected to come late this month or early in December.
Gameplay
•On-dribbler steal success rates have been tuned down.
•Tuned accuracy of directional passing in order to more reliably pass to the intended target.
•Improved help defense, specifically for rotations on pick-and-roll situations.
•Defensive tuning on 3PT shots to reduce the success of contested threes.
•Addressed an issue on drives to the basket where the help defender wouldn't fully engage in the double team
Online
•Several matchmaking optimizations have been made in order to help users get into games quicker. This will reduce the amount of time "Searching For Opponent".
•Addressed a number of network errors that would cause games to end prematurely.
•Addressed an issue in Team-Up where certain conditions would lead to a player standing idle for prolonged periods of time.
•Corrected a Win/Loss streak tracking issue so "Back to Back to Back" achievement/trophy will now unlock at the proper time.