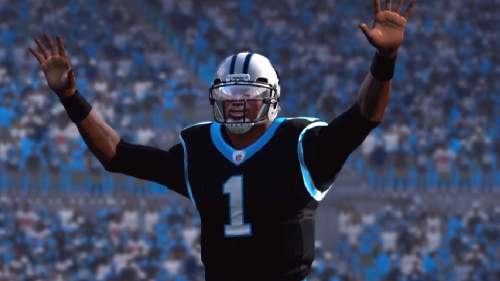 At the mid-season point I put together a list of potential candidates for the Madden NFL 13 cover. The assumption was made that another tournament would be held and for the purpose of that analysis any players that were eligible the year prior were eliminated as were those scheduled to be free agents. Now that the season is complete and details about the cover tournament have come out it's time to reassess who may be in play for the honor this year.
64 players will be included – 2 from each team that will face off in the first round to be their respective team's representative in the bracket of 32. This will make it easier to include some players for a second straight year but free agents will likely still be excluded. Here's a look at the favorites for EA Sports to involve in the cover tournament process for the NFC!
*Current Madden NFL 12 overall rating in parenthesis for chosen players
•Earlier: AFC Predictions
Cardinals: Adrian Wilson (92), Patrick Peterson (85)
Four straight Pro Bowl selections make the justification for Adrian Wilson simple as one of the more overlooked players in the league throughout his career. Patrick Peterson electrified fans by tying the single season record with 4 punt return TDs earning him a spot on the Pro Bowl as well. Other possibilities could include Larry Fitzgerald – though he not really a fresh option considering having been on Madden 10's cover and in the tournament last year losing in the first round – and the outspoken Darnell Dockett.
49ers: Patrick Willis (99), Vernon Davis (97)
San Francisco has a number of really good options for cover consideration. Patrick Willis was in the tournament last year, up for the NFL Blitz cover, and has a history of being really into Madden so he'll probably get the nod again. Vernon Davis meanwhile really emerged and big-time performances in the Playoffs made him much more of a national name. Frank Gore had a slow start to the season and dropped off in production late but could still represent the team well. Justin Smith, also 99 rated in Madden NFL 12, would be well-deserving but I doubt EA will match him and Willis up against each other and instead go for more differentiated pair.
Seahawks: Earl Thomas (87), Doug Baldwin (75)
It was The 12th Man last year that got nominated – not a player – but this time around the Seahawks have some talent to present with most coming from the defense. Earl Thomas was a Pro Bowl starter and is probably the most recognizable name on the defense so he would be the favorite here. As an undrafted free agent who started with a 48 rating and rose an astonishing 27 points over the course of the season Doug Baldwin makes for the best story. Other possibilities would include Kam Chancellor, Brandon Browner (another interesting story CFL to Pro Bowl), and Chris Clemons. The most obvious one, Marshawn Lynch, may be on the outside looking in as a free agent even though he's expected back whether with a new contract or Franchised.
Rams: Steven Jackson (92), Chris Long (91)
For a team with only two wins St. Louis has a couple of good players to represent them. Steven Jackson is basically a lock – he's been a Ram his whole career and given full effort even though they haven't made the Playoffs since his rookie season. Chris Long really emerged in the 2010 season and improved even more with 13 sacks in 2011. James Laurinatis and Josh Brown would probably be runner-ups here.
Bears: Brian Urlacher (96), Devin Hester (79)
Though Matt Forte accounted for the majority of the Bears' offense before getting injured going into the offseason as a free agent and seemingly an unhappy one takes him out of the running here. Brian Urlacher continues to be the leader on a tough defense that has been the image of the Chicago team for a long time. Devin Hester gets the second slot in a tough call between him and Jay Cutler (longer tenure, Cutler's late season injury) while Julius Peppers had his shot in the tournament last year.
Packers: Greg Jennings (95), Clay Matthews (94)
Aaron Rodgers is the league's MVP and would be the easy one to slot in as a candidate – I'm going a different direction though. Rodgers was in last year and didn't win it (losing to Peyton Hillis in the semi-finals) and marketing wise he is much bigger now and may have priced himself out of the Madden cover. Instead here I'll go with Clay Matthews who could have even been justified for the cover of Madden 12. Greg Jennings, given the viral video sensation, would be a perfect fit as well. Jordy Nelson and Charles Woodson would be the sleepers.
Lions: Calvin Johnson (98), Matt Stafford (90)
Somewhat having wanted to avoid "duos" it was hard to go with anything else here. 'Megatron' had a monster season, gained the "clutch" trait in Madden 12 and rose to 98 rated, and helped get the Lions to the Playoffs. Matt Stafford staying healthy was another big reason for the team doing so well as he threw for over 5000 yards. Ndamukong Suh may not make the best marketing partner any longer given his tarnished reputation – he was also in last year's tournament and got blown out in the first round.
Vikings: Jared Allen (98), Adrian Peterson (98)
This would be a fascinating match-up if it were to materialize with 98 rated players going up against each other for the right to move on. Allen and his 22 sacks, and Adrian Peterson despite playing in just 12 games, have previous relationships with EA Sports. Percy Harvin would be another interesting option but it seems unlikely EA Sports would go back to him after his testing positive for marijuana at the NFL Combine caused them to drop him from the cover of NCAA Football 10 at the last minute (he was then replaced by Michael Crabtree).
Buccaneers: Davin Joseph (89), Kellen Winslow (88)
This is a very tough team to evaluate with several of their players regressing this season – losing 10 straight games will do that. Josh Freeman was in last year's tournament and struggled mightily making him an unlikely choice here. EA knows that no one on the Bucs is going to win this tournament (or probably even make it out of the first round) so Davin Joseph as the team's only Pro Bowl rep would be probably the most deserving choice. Kellen Winslow with his 75 catches might be the second one with Ronde Barber as the legacy option but the uncertainty around him and whether he'll leave as a free agent or retire is probably too much to risk.
Falcons: Michael Turner (94), Tony Gonzalez (91)
When Tony Gonzalez decided to come for one more season he became the favorite to be the Falcons' representative. The bigger question is who will be the second and probably get knocked out by him in the play-in round. Michael Turner, Roddy White, and Julio Jones would be in the running. John Abraham as a free agent and Matt Ryan having been in last year's tournament and coming up short on the big stage again would be out. If Gonzalez is included then I would imagine another pass catcher wouldn't be the second so Turner gets the nod.
Panthers: Charles Johnson (93), Cam Newton (88)
Looking back on last year's tournament Carolina's representative was Jordan Gross and not Steve Smith – that indicates Smith may not be someone under consideration even after a season in which he was resurrected in big part due to Cam Newton's arrival. Really the Panthers make for an interesting situation with both Smith and Newton then since the latter was passed over for the cover of NCAA Football 12 (presumably due to collegiate controversy and character concerns – which seems to have been answered this year). It would be hard not to involve Newton now. Charles Johnson as the team's best defensive player would then be the second.
Saints: Drew Brees (99), Jimmy Graham (95)
Graham has emerged this season as one of the best tight ends in the league and even got the "clutch" trait in Madden 12. He became only the second TE ever (Tony Gonzalez) to have over 100 receiving yards in four straight games and put up 3 TDs in the playoffs including what would have been the game-winner in San Francisco. Drew Brees may have been on the Madden 11 cover, in last year's tournament, and a free agent but there seems to be no way EA will pass over him for a promotional opportunity. Keep in mind both Brees and Graham were on-hand to play in (and win) the Madden Bowl. A sleeper on the Saints could be Darren Sproles who proved to be exciting just about every time he got the ball in his hands.
Cowboys: Jason Witten (96), DeMarco Murray (84)
With DeMarcus Ware having been in last year's tournament I wouldn't necessarily knock him out because of that and it won't be a surprise if he's one of the guys included – but it may be time to give someone else a chance anyway. A case could be made for Dez Bryant or Tony Romo and one built very quickly for DeMarco Murray. Jason Witten's consistency though as one of the best in the game at his position is what separates him from the pack for one spot while Murray gets a sleeper nod due to his past relationship with EA and explosion onto the scene this season.
Eagles: LeSean McCoy (94), Michael Vick (91)
Even as one of the league's most disappointing teams none of the blame can be placed on LeSean McCoy who had an outstanding season and scored a TD in 13 games. The second spot could very well go back to Michael Vick even though he didn't have a good year – EA may look to capitalize again on his name being involved, the controversy it brings, and justifying that by saying they're giving the runner-up from last year another chance. Trent Cole, Jason Babin, and Cullen Jenkins could be on the outside looking in because of it.
Giants: Jason Pierre-Paul (95), Eli Manning (95)
It pains me to leave out Victor Cruz here – he could have gotten strong Latin support and maybe made a good run. At one point I actually had him slotted in over Eli Manning but after a much improved season and helping to lead the Giants to the Super Bowl victory – while winning the SB MVP – his absence would be too glaring. Jason Pierre-Paul was a major disruptor while recording 16.5 sacks making for a very strong pair of reps whether it's Eli, Cruz, or JPP.
Redskins: Brian Orakpo (91), Roy Helu (79)
This is a team that really lacks a standout performer that could attract support beyond the fan base. London Fletcher has been an underrated player for the Redskins since joining the team in 2007 and led the league in tackles again this season – which he's done for his team for 13 straight years now. He may come back to Washington but as a free agent that would make him an iffy choice to go with. Brian Orakpo, with all that Geico exposure, could get involved in the tournament for a second straight season as well as Ryan Kerrigan after a strong rookie campaign. Roy Helu emerged late in the year with a handful of big games and is probably the best option from the offense.