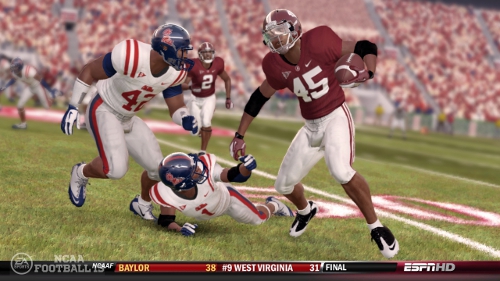 Amazon is currently offering pre-orders of NCAA Football 13 (Xbox 360) for just $45. As of right now the PS3 version remains at the standard price. It's unclear whether this is as intended or if one or the other will be adjusted soon. 
Making the deal even better is that Amazon has arguably the best pre-order incentive as well with the five exclusive Nike Pro Combat uniforms. Release day shipping is also free to Prime members, only $1 to others, and many states do not get taxed on purchases from the online retailer. Those who ordered prior to today will automatically be shifted to the new price.
Last year Amazon made a huge splash by providing a $20 promotional credit along with all pre-orders of NCAA 12 and in doing so essentially dropped the base price of the game to $40. Regardless of opinion on NCAA (or Madden for that matter which had the same deal) at $40 it represented immense value and made waiting for a price drop unnecessary and poor strategy. Because of the track record it's plausible that Amazon could be looking to ship at the listed lower price for good or later adjust it and offer a $10-20 promo credit instead yet again.
(Update 5/9): PS3 now also at $45.