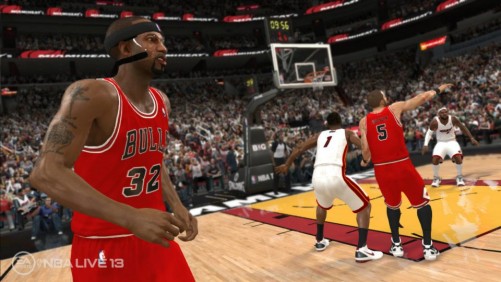 The last thing EA Sports needed for NBA Live 13 was increased skepticism and negativity. That's exactly what they got however at E3 as report after report pegged Live as a let down – even ESPN called it the biggest disappointment at the event. 
When the media – and many being the same outlets who embarrassingly heaped praise on the eventually cancelled NBA Elite 11 at this very stage two years ago – are expressing intense doubt about the product it's obvious there is reason for serious concern. They tend to have short memories regarding sports titles and will likely refer back to the poor E3 showing for months to come and evaluate the final product with many of those prejudices still in mind.
Back in February I discussed what to reasonably expect for EA Sports' NBA product as it goes up against an entrenched competitor in the NBA 2K series. However unanticipated then was EA attempting to even further lower expectations – they're claiming not only did they not have a two year development cycle but they were left with only 11 months. That is even less than NBA 2K13 will have.
Excuses aren't going to play with consumers however. No one will care why Live is lacking severely in areas – just that it is. Why would anyone buy an incomplete NBA product for $60 when a fully fleshed out one that carries no risk is available at the same price? EA is going to try and differentiate the products – likely playing on their strength with online vs the competitor's weakness there. But that won't be enough if the actual gameplay is sub-par and the overall product is getting widely ripped on by the gaming media.
EA Sports would not be able to recover from a delay or cancellation. They've invested heavily in the project and now have to go with what they've got. Still they won't be able to regain any credibility going forward if the game turns out to be a dud. If those who are forgiving enough to actually give Live a shot find themselves feeling ripped off the company will likely never get another chance to make a run at NBA 2K.
The first sign of problems with Live 13 should have been EA giving up their advantage by not promoting it more in recent months – but they've also used cheap and deceptive tactics to get free promotion of the game. They've shown desperation but no reason to actually believe the product will deliver. The problems which were so obviously apparent at E3 have only magnified the issue EA is facing – no one will give NBA Live 13 the benefit of the doubt and for good reason. They're going to have to demonstrate and prove why anyone should consider investing in it and so far they're failing spectacularly.