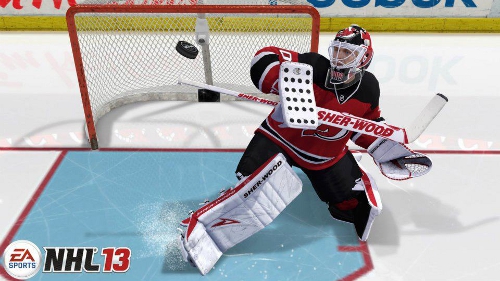 Following in the footsteps of Madden NFL 13 and NCAA Football 13 Amazon is offering a significant deal on NHL 13. Those who pre-order will get a $15 promotional credit for use towards future purchases on the site. Many states do not get charged tax on the purchase and subscribers to Amazon Prime get free release day shipping.
Unfortunately Amazon no longer offers the official release day shipping for just $1 to everyone else. Two-day shipping now acts as release day but costs $6. Again, Prime members get that for free, but otherwise its a cost that has to be factored into the total price. The deal is still worthwhile though even considering that.
Madden NFL 13 has the same offer going while NCAA Football 13 released at a set price of $45 where it still remains. The promotional credit for NHL 13 comes along with the advertised pre-order incentive of the "Bauer Boost Pack" to upgrade your player in Be a Pro and EA Sports Hockey League. At this time the promo credit is only applying to the standard version of NHL 13 and not the Stanley Cup Collector's Edition. Ordering through the following links helps to support the site as well as future giveaways!
NHL 13 (360) – NHL 13 (PS3) – Madden NFL 13 (360) – Madden NFL 13 (PS3)
Cancellations can be made at any time prior to release without risk of any penalty as Amazon does not charge cards until items ship. It now makes much more sense to buy the game from Amazon rather than considering a wait for a price drop – NHL 13 probably won't be found for $45 or less until Black Friday in late November and used copies would not go much lower and still require a $10 "Online Pass" on top of that. Remember that those with EA's 'Season Ticket' will be available to download and play NHL 13 starting on Friday September 7 and that will run through Tuesday morning when a retail copy will be needed to continue.