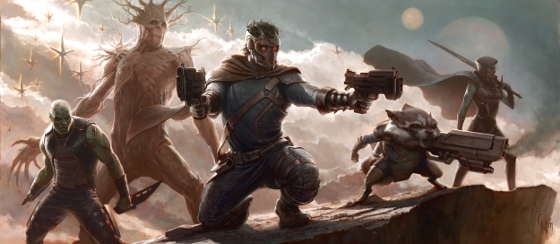 Marvel made a number of announcements at their Comic-Con panel today. Guardians of the Galaxy, rumored to be unveiled at the event, materialized along with the concept art seen above. That film will release on August 1, 2014.
The sequels to Thor and Captain America got their official titles. Thor: The Dark World will arrive in theaters on November 8, 2013. Captain America: The Winter Soldier follows on April 4, 2014. Those familiar with Captain America will know exactly what that title is referring to.
In addition there was a test reel shown by Edgar Wright for Ant-Man. That project remains in the pipeline but no official target date for release or to even begin production has been determined.