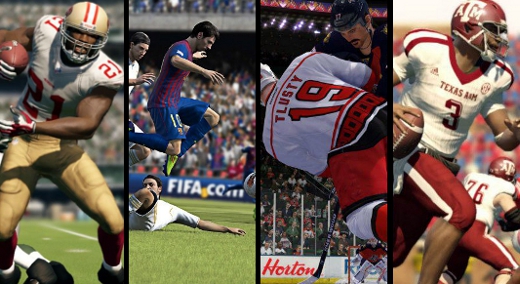 It's was a huge month for EA Sports with official NPD sales numbers arriving and four of the top ten titles for September coming from the company. Madden NFL 13 finished in 1st, FIFA 13 in 3rd, NHL 13 in 6th, and NCAA Football 13 in 8th. Only NCAA 13 has seen a drop in sales year-over-year while the others have produced noteworthy gains. 
Madden NFL 13 has always carried August, but with a release shift to the end of the month that began with Madden NFL 12 all four weeks of sales tracking moved to September instead. That has only made it even easier for the series to take the pole position when sales results are reported. Last year with approximately 2.4 million copies moved Madden NFL 12 was able to beat out Gears of War 3. This year Madden NFL 13 cruised to the top with even higher sales and a second place finisher in Borderlands 2 that couldn't match the number produced by Gears.
With approximately 2.68 million copies sold Madden NFL 13 is 11% ahead of the pace set last year. Strong marketing, generally positive word of mouth, advancements that resonated with consumers, and preorder incentives all factored in to varying degrees. Some of the sales that were lost with NCAA 13 probably ended up shifting to Madden as well. The initial 7% rise for first day sales was followed by an 8% higher first week and now has reached 11% for the first month. Any concerns of it being ultra front-loaded have been squashed.
FIFA 13's finish in 3rd is especially impressive. Only a few years ago the series wasn't even cracking the top 10. FIFA has become the fastest selling sports game in history worldwide, now for two straight years, and North America has really started to support the product rising 42% for its first day compared to FIFA 12. Considering the September tracking only included the first five days of FIFA 13's sales yet it was able to reach 3rd it's really startling the rate at which the series is growing in NA while it also continues to expand internationally and break records.
Despite the league lockout NHL 13 finished in 6th place. Early reports touted a 9% increase in first week sales but the lockout may be affecting turnout now resulting in a steeper decline than usual as fans turn to other interests. NCAA 13 slips into the top 10 due to a weaker array of gaming options available compared to last September. Sales for that series continues to be troublesome as it is down about 13% compared to the same period last year.
Early numbers for NBA 2K13 have come in and an article discussing that title's success will be posted later today. In nearing the end of this console generation sports games are really starting to hit their stride and consumers appear to be recognizing that in droves.