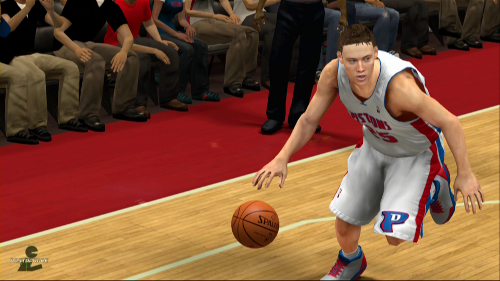 Another roster update for NBA 2K13 arrived this morning and brings with it some ratings changes, a handful of new players, and the unlock of extra jerseys. The recent signings of Josh Howard by Minnesota and Shaun Livingston by Washington have been reflected. Many of those out with injuries such as Amare Stoudemire remain active however. 6 players including Kyle Singler have been added bringing the total missing now down to 19. 
Players increased in this update: Brandon Jennings (+2) to 82, Kyrie Irving (+2) to 85, Anderson Varejao (+3) to 76, Deandre Jordan (+2) to 74, J.J. Redick (+2) to 72, O.J. Mayo (+2) to 80, Kenneth Faried (+3) to 80, DeMar DeRozan (+3) to 77, Andrei Kirilenko (+4) to 78
Players decreased in this update: Lamar Odom (-2) to 69, Ronnie Brewer (-1) to 72, Joe Johnson (-2) to 83, Roy Hibbert (-3) to 76, Rodney Stuckey (-1) to 78
The jerseys which leaked soon after release are now unlocked for all to use. Alternates for the Portland Trail Blazers, San Antonio Spurs, Denver Nuggets, Miami Heat, and Oklahoma City Thunder (which are now spelled correctly) are joined by the "Christmas" variations that will be worn by the 10 teams playing that day.