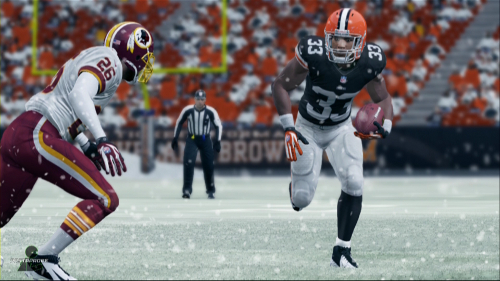 NBA 2K13 set the high sales mark for the series in October with 1.27 million copies, which represented an increase of 19% over NBA 2K11, but it wasn't able to carry the month of November. 2K13 slipped to 8th place for the month (about 480K copies) with Madden NFL 13 moving the most of the sports games coming in 5th place (about 760K copies). Also appearing in the top 10 for North America were WWE 13 in 9th place and FIFA 13 in 10th. 
Last year Madden NFL 12 was the only sports game to breach the top 10 as it landed in 6th place. At the time NBA 2K12 was still being hurt by the league lockout which didn't end until late November. In 2010 it was Madden NFL 11 in 4th and NBA 2K11 in 9th.
The NBA 2K series has shown incredible legs with the past two iterations. It's no surprise that Madden would jump back ahead in November, but from January through June is where 2K11 and 2K12 has delivered remarkable returns. This is really the first year though where NBA 2K entered release at a cultural high – the lockout pushed interest in 2K12 and greater sales to December and beyond – so it likely will prove to be more frontloaded. That has already been shown true with it's first month sales compared to it's first week.
Though exact Wii U software numbers are unknown all three of Madden NFL 13, NBA 2K13, and FIFA 13 sold under 10K copies for the month. Expectations for these versions wouldn't have been high considering a later release, lack of marketing, and small user base but like with the PlayStation Vita there is little reason to be encouraged about third party support for that system particularly once the next Xbox and PS4 arrive.
As always November means deals on games and they were plentiful this year with Black Friday delivering options to snag Madden, 2K13, WWE, and FIFA for just $25.