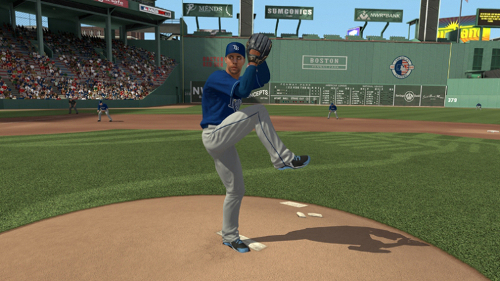 The surprise announcement that the MLB 2K series would return for another year – and the new license agreed upon with MLB is just for one year – came down this morning. Though the cover athlete news was announced along with it (David Price) no details on what to expect from the game feature wise were made immediately available.
Now though there is a early features list for the game that won't quell any pessimism around how much work is going to be put into the product. It contains only features being carried over rather than anything new with the exception of a Playoff mode (which is also new this year in The Show). Given the constrained development cycle that may not be a surprise but it will make it even more difficult for consumers to justify the full $60 price tag. 
Total Control Pitching & Hitting – The original analog pitching and hitting controls remain the benchmark. Unmatched control and realism allow you to feel the action on both sides of the plate.
My Player – Experience the journey from Minor Leagues to MLB stardom. Choose your path, customize your player and work your way to the top.
MLB Today – Take the field in an authentic environment pulled from the real life MLB season. Featuring the latest rosters & lineups, and relevant commentary & stats overlays.
MLB Today Season – Play through the full 2013 MLB season, one day at a time. Real results combine with yours, allowing you to compete directly with real life MLB teams.
Dynamic Tendencies – Player performance fluctuates dynamically as player ratings update from pitch to pitch and at-bat to at-bat.
Inside Edge & Stats Inc. – Strategize for each at-bat with authentic scouting reports and data from Inside Edge & Stats Inc.
Franchise – Championship teams are built in the front office, and crowned on the field. Can you master both sides of the ball and build a dynasty?
Postseason – Relive the 2012 Postseason, or customize your own bracket and crown a new champion.
Home Run Derby – Go head to head with MLB's greatest power hitters in a classic Derby format.