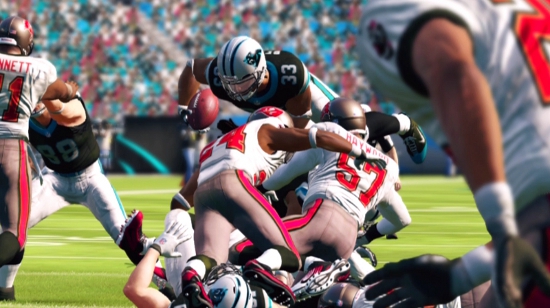 One of the most fascinating developments of the year came late as a former Madden NFL developer went on an unprecedented Twitter rant regarding the state of the franchise and the stifling environment in which he had departed from. It was insight into the ongoing process and frustrations that may be faced by those who work on the games that the public rarely if ever hears. Certain elements of that are true of all major corporations but with it being Madden in particular it struck a nerve with those who have been frustrated with the series ever since the exclusive license with the league was signed in 2004. 
There are always going to be internal disagreements whether that be over something as vast as the direction of a title or in minor day-to-day decision making. The use of metrics will of course remain a factor just as focus testing and other external resources are considered. None of the details discussed were all that surprising with the targeting of other individuals who had worked on the game damaging the credibility and bringing into question motivations of speaking out.
The need to satisfy investors falls along the lines of the need for the company to satisfy the NFL and further cultivate that valuable relationship. Over this generation the product has been watered down in an attempt to appeal to the widest audience rather than achieve the best game possible. There was no series more risk-averse than Madden until this last year. That rings true in regards to being a publicly traded company just as it does in pleasing the league by presenting an inoffensive representation and trying to reach the mystical "casual" crowd.
A number of bad decisions by EA have been made along the way – whether they be judgment on general vision and specific features or the inability for the dev team to execute them properly. Where to place the blame should really be irrelevant to consumers. The bottom line is whether the product lives up to expectations and provides the value necessary. If not word of mouth and sales will be affected and a course change will occur.
Some felt as though the entirety of the rant in question was unprofessional while others hoped that doing so in such a manner could increase pressure for EA Sports to change their practices. Ultimately though this was just one side of a story that almost certainly would find the truth somewhere in between the beliefs and perspectives that would be offered by both sides.
Year in Review
Only a few more to come!
•#3 of 2012: Madden NFL 13
•#4 of 2012: SSX
•#5 of 2012: UFC Undisputed 3
•#6 of 2012: Forza Horizon
•#7 of 2012: MLB 12: The Show
•#8 of 2012: NHL 13
•#9 of 2012: NCAA Football 13
•#10 of 2012: NFL Blitz
•Vote for the 2012 Community Choice Awards
•Revisiting the Top Stories of 2012: Former Developer Rips EA Sports
•Revisiting the Top Stories of 2012: MLB 2K12 Perfect Game Contest Controversy
•Revisiting the Top Stories of 2012: The (at one time) Death of the MLB 2K Series
•Revisiting the Top Stories of 2012: Turning to Entertainers for Marketing Exposure
•Revisiting the Top Stories of 2012: Lawsuits Faced by Electronic Arts
•Revisiting the Top Stories of 2012: Disingenuous Marketing and Unfulfilled Features
•Revisiting the Top Stories of 2012: The Disastrous Road Towards NBA Live 13