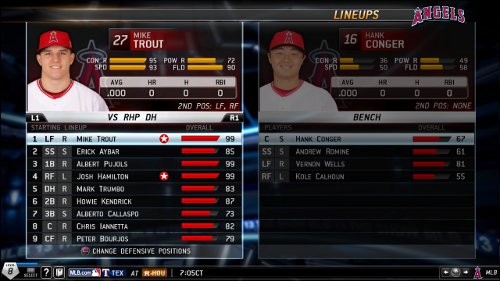 The team rankings for MLB 13: The Show slipped out last week and now comes an opportunity to see the complete rosters for every team along with the overall rating of every player. Though 17 players rated 99 there is a somewhat substantial gap between those at the top and the other highly rated players. Only 5 are rated 98 and 2 rated 97.
Teams heavily stacked with 90+ rated players are the Cardinals (7), Phillies (7), Nationals (6), Angels (6), Reds (6), Giants (5), Yankees (5), and Blue Jays (5). The Indians are the only team that doesn't have a single one. In total there are 99 players rated 90 or higher.
Thanks goes to CJohnson83 on Twitter for supplying all the images. Continue on for the breakdown of top rated players for every team and flip through the images for each team in the Facebook album or G+ album to check out the entirety of the rosters. 
Baltimore Orioles
93 Matt Weiters
91 Adam Jones
87 Nick Markakis
85 Jim Johnson
84 Miguel Gonzalez
84 Darren O'Day
Boston Red Sox
98 Dustin Pedroia
95 Joel Hanrahan
94 Jacoby Ellsbury
91 David Ortiz
89 Jon Lester
89 Mike Napoli
New York Yankees
99 Robinson Cano
97 Mariano Rivera
96 C.C. Sabathia
91 Mark Teixeira
90 Derek Jeter
Tampa Bay Rays
97 David Price
93 Evan Longoria
93 Fernando Rodney
90 Jake McGee
89 Ben Zobrist
89 Matt Moore
Toronto Blue Jays
98 Jose Bautista
95 Jose Reyes
94 Josh Johnson
93 R.A. Dickey
90 Brandon Morrow
Chicago White Sox
96 Chris Sale
94 Paul Konerko
90 Alex Rios
90 Jake Peavy
86 Matt Thornton
Cleveland Indians
88 Chris Perez
88 Vinny Pestano
86 Brett Myers
85 Jason Kipnis
85 Asdrubal Cabrera
85 Carlos Santana
Detroit Tigers
99 Miguel Cabrera
99 Justin Verlander
95 Prince Fielder
90 Joaquin Benoit
89 Torii Hunter
Kansas City Royals
94 Billy Butler
94 James Shields
93 Greg Holland
89 Kelvin Herrera
87 Salvador Perez
Minnesota Twins
93 Joe Mauer
90 Glen Perkins
87 Jared Burton
85 Josh Willingham
84 Vance Worley
Los Angeles Angels
99 Mike Trout
99 Josh Hamilton
99 Albert Pujols
93 Jered Weaver
90 Ryan Madson
90 Ernesto Frieri
Oakland A's
92 Yoenis Cespedes
91 Ryan Cook
91 Grant Balfour
88 Brett Anderson
88 Sean Doolittle
Seattle Mariners
99 Felix Hernandez
92 Tom Wilhelmsen
87 Erasmo Ramirez
85 Jesus Montero
85 Kendrys Morales
Texas Rangers
96 Yu Darvish
96 Adrian Beltre
95 Ian Kinsler
93 Nelson Cruz
91 Joe Nathan
Houston Astros
90 Jose Altuve
89 Jose Veras
83 Jed Lowrie
82 Bud Norris
80 Philip Humber
Atlanta Braves
99 Craig Kimbrel
95 Kris Medlen
91 Jason Heyward
89 Tim Hudson
88 B.J. Upton
88 Brian McCann
Miami Marlins
95 Giancarlo Stanton
92 Steve Cishek
82 Ricky Nolasco
81 Justin Ruggiano
80 Donovan Solano
Washington Nationals
99 Stephen Strasburg
91 Ryan Zimmerman
91 Rafael Soriano
90 Gio Gonzalez
90 Dan Haren
90 Drew Storen
New York Mets
93 David Wright
88 Johan Santana
87 Matt Harvey
85 Daniel Murphy
83 Shaun Marcum
Philadelphia Phillies
96 Cliff Lee
95 Jonathan Papelbon
94 Roy Halladay
94 Cole Hamels
94 Carlos Ruiz
93 Jimmy Rollins
91 Mike Adams
Chicago Cubs
90 Starlin Castro
88 Matt Garza
88 Jeff Samardzija
88 Carlos Marmol
86 Alfonso Soriano
Cincinnati Reds
99 Aroldis Chapman
98 Joey Votto
94 Mat Latos
93 Brandon Phillips
93 Jay Bruce
92 Sean Marshall
Milwaukee Brewers
99 Ryan Braun
92 Corey Hart
92 John Axford
89 Aramis Ramirez
87 Mark Rogers
Pittsburgh Pirates
99 Andrew McCutchen
91 Jason Grilli
87 Wandy Rodriguez
84 Russell Martin
84 A.J. Burnett
St. Louis Cardinals
98 Carlos Beltran
98 Yadier Molina
96 Adam Wainwright
96 Jason Motte
92 Allen Craig
91 Matt Holliday
91 Chris Carpenter
Arizona Diamondbacks
93 J.J. Putz
89 Brandon McCarthy
89 David Hernandez
87 Ian Kennedy
86 Daniel Hudson
Colorado Rockies
99 Carlos Gonzalez
99 Troy Tulowitzki
94 Rafeal Betancourt
86 Wilin Rosario
85 Michael Cuddyer
Los Angeles Dodgers
99 Clayton Kershaw
99 Matt Kemp
94 Zack Grienke
93 Adrian Gonzalez
89 Kenley Jansen
San Diego Padres
91 Chase Hedley
90 Huston Street
88 Cory Luebke
86 Andrew Cashner
86 Luke Gregerson
San Francisco Giants
99 Buster Posey
95 Matt Cain
94 Sergio Romo
92 Madison Bumgarner
90 Hunter Pence