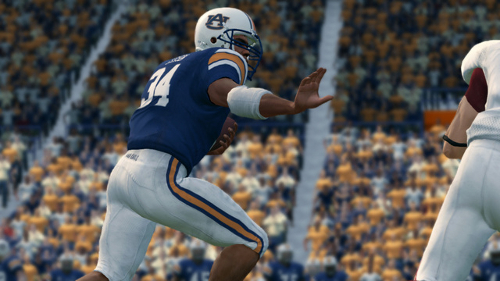 One of the greatest all-around athletes in history – and the one most remembered for his impact on football video games – is making a return with NCAA Football 14. Bo Jackson will be featured in the new Ultimate Team mode. Kotaku has all the details on how EA Sports pursued him and how they crafted him to be unlike anyone else in the game. 
This will mark the first inclusion in a video game for Jackson since 2004's NFL Street 2. He of course though is best known for utterly dominating and leaving opposing defenses helpless in Tecmo Super Bowl.
Every Ultimate Team created will start out with a "freshman" Jackson card which will be rated 85 overall. This will be in addition to the card that is being given to those who started up the demo. There will also be rare Heisman version of Jackson based on his 1985 campaign that will be rated 99 overall with 99 speed and trucking, 98 acceleration, and 97 agility. Jackson will only be available in Ultimate Team – he won't be an option for the Heisman Challenge mode.