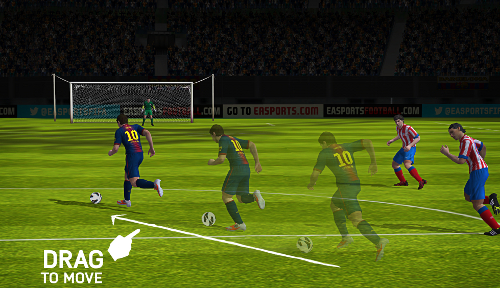 The year-in-review process opened up earlier this week with the start of the Community Awards. Today the category is Best Mobile Sports Game. The number of nominees are being expanded to five in this category given the sheer number of mobile games and the unlikelihood that a majority of voters would have played any or all of what would have been a top three.
iOOTP Baseball 2013
The mobile version of the popular PC-based management simulation game carries with it impressive depth and features. Improvements for iOOTP 2013 over the previous iteration which was nominated last year include updated major league rosters and the top 20 minor league prospects for each team, a redesigned interface, better trading AI, a new player development system, and achievements.
Your Turn Football
Though it has since been removed from the app stores, the head-to-head game Your Turn Football excelled with satisfying turn-based gameplay, realistic outcomes, rewarding strategic elements, and various ways to improve one's team and players. The choices made on a play were simple but greatly impacted the end result and rewarded smart decisions. Things like field position mattered – something very few are concerned about on a game like Madden.
Ridiculous Fishing
A highly addictive game that debuted on iOS and expanded to Android last month. Gameplay centers on catching and then shooting fish which is far more fun than any synopsis can suggest. It's also worth recognizing there are no microtransactions. The $2.99 price gets you everything.
Super Stickman Golf 2
Crazy courses and challenges are at the heart of SSG 2 which proved to be a big jump from the original which was already a lot of fun. Includes two variations of online multiplayer (turn based and speed based). Updates have added new courses, characters, and replay sharing. Another significant update is scheduled for January.
FIFA 14
The first FIFA on mobile devices to be free-to-play with a primary focus on Ultimate Team mode. Deep licensing, a main control scheme utilizing screen taps and swipes, and terrific graphics were accompanied by additional features like Match Day updates and online multiplayer. While some features like Manager mode and Shootouts were held behind a paywall waiving the initial entry fee to the game proved to be a smart move.
Make sure to vote in other categories: Best New Feature – Best Gameplay