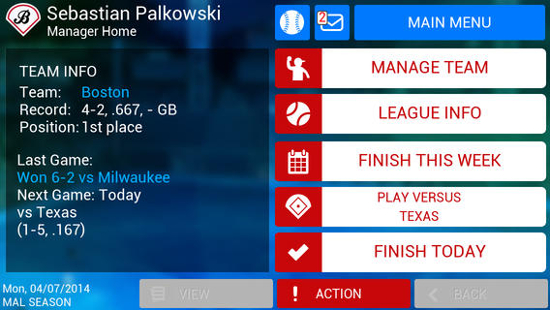 by Brendan Wilhide
iOOTP '14 ($5 in the iOS App Store) is the latest version of the popular Out of the Park Baseball game for iOS devices. The game allows you to pick up and play the 2014 MLB season, replay a historical season, or create a fictional universe with its own teams, players, and rules.
Longtime players will feel right at home thanks to a nearly identical look and feel from previous games. The features are all there, too, including the ability to pick up and play with real MLB teams or the opportunity to create a completely fictitious league from scratch. Gamers have the option of purchasing additional season packs, too, if they want to relive classic seasons from years gone by. 
If you've played iOOTP before you'll feel right at home in iOOTP '14. In fact, the game plays a lot like its previous counterparts–the features, look, and feel will be familiar to anyone who played earlier versions of iOOTP.
The game itself hasn't changed much since last year. The in game managerial experience, complete with play-by-play, remains the heart and soul of the game. You can customize your team to any style of play and you can play with or without the DH. It's up to you.
Roster management is perhaps the biggest part of the iOOTP series. The portable version mimics most of the key features of its larger PC/MAC counterpart with a few exceptions. iOOTP '14 does not include minor league teams (although it does contain a minor league reserve roster where players age and change), a waivers process, or the Rule V draft, omissions likely due to the size of the game itself.
Since the game is nearly identical to previous versions, it is disappointing to see that some issues remain even after several iterations of the game. For example mound visits remain worthless (since pitchers only tell you if they're tired or not, something you can easily glean from their Pitcher/Batter screen anyway) and CPU teams rarely let go of poor pitchers (think 6.00+ ERAs with WHIPs over 1.70) despite horrendous performance. These may be small issues but they've been small issues for at least the last three years. It is frustrating to see them still present in the 2014 game.
For the most part iOOTP '14 plays, looks, and feels like past versions of the game. As a longtime iOOTP gamer it feels I'm still playing the 2012 or 2013 games when I fire up the 2014 version.
iOOTP Baseball 2014 is a worthwhile addition to any baseball fan's iPhone or iPad and stands as a fun game in its own right. iOOTP veterans may feel like they're still playing last year's game, however.
Brendan Wilhide is a contributor to Pastapadre.com and a diehard Cleveland Indians fan. You can follow him on Twitter: @BrendanWilhide.