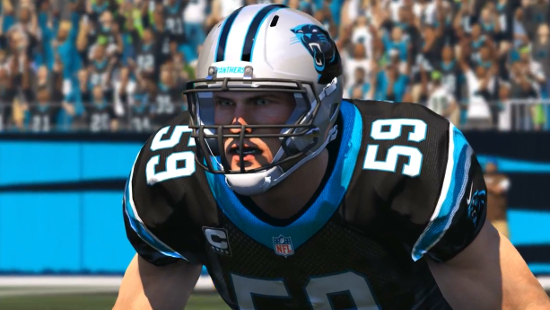 In advance of E3 next week, EA Sports has released some additional details on Madden NFL 15 and a new "gameplay" trailer which includes a brief look at some replay footage.
As suspected earlier based on retailer listings there is a special edition of the game and it'll be called the "Ultimate Edition". For $70 it includes what is said to be $40 of Ultimate Team content. Combined with the pre-order bonus of $15 of Ultimate Team content, if that is included with the special edition of the game, consumers who enjoy the mode will really be able to get a strong running start.
Up until now the only info on features was limited to what had been sent to retailers. That included pre-game and halftime shows, dynamic player lock cameras, and a crowd-sourced play calling system. EA expanded a bit in three areas today with mentions of redesigned zone and man coverage logic, NFL Films presentation, six gameplay cameras to choose from, and some kind of skill competition called "The Gauntlet".
When watching an early trailer for Madden it's important to keep in mind the game often hasn't ended up looking as good as the footage presented by EA Sports suggests and some would say they've simply been intentionally deceptive with them. At this time last year here is what the company claimed you'd be playing with Madden NFL 25. There's not a whole lot to analyze in this one but continue on to check it out along with the three main feature descriptions and leave any thoughts in the comments! 
Deliver on Defense
Set the tone on defense with more control thanks to an all-new arsenal of pass rush moves, contain the open field with intuitive tackling mechanics, and play as a team with redesigned zone and man coverage logic all while being immersed in the play from the other side of the line, with defensive player lock cameras. Madden NFL 15 delivers on defense.
NFL Films Inspired Presentation
Relive the greatest moments in games played with dynamic pre-game and halftime show, and get your all-access field pass with NFL Films inspired in-game camera angles dropping you right in the heart of an NFL game. Gain a new perspective of the game with six new gameplay cameras to toggle through pre snap on every play. Madden NFL 15 features NFL Films inspired presentation.
Know Your Opponent
Call your plays with confidence using data from millions of online games played by Madden gamers and test your new found skills through intense challenges and conditions in The Gauntlet. Madden NFL 15 gives you the advantage to know your opponent.
Please enable Javascript to watch this video