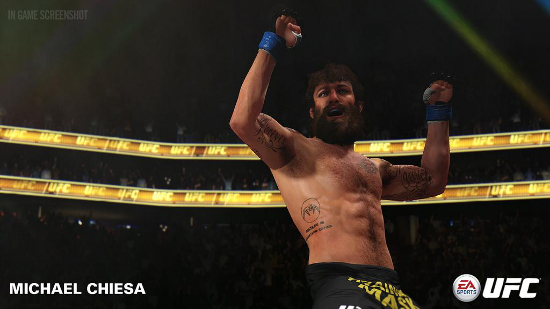 The excellent post-release support for EA Sports UFC continues with the release of a fourth significant patch for the game that delivers more in the way of gameplay improvements as well as three new fighters. It went out today on both Xbox One and PlayStation 4 and seems to address spamming and balancing issues that were being exploited in online fights. 
New and Updated Content
♦Three new fighters: Michael Chiesa, Diego Sanchez, Hector Lombard.
♦Added Gegard Mousasi to Middleweight division.
♦Implemented stamina burn system to counter consecutive single-type strike combos.
Gameplay
♦Fixed issue where a sweep during kick animations may cause temporary loss of functionality.
♦Fixed stamina reduction for get-up attempts from Submissive Full Mount, Back Mount, Crucifix, and Dominant Rubber Guard.
♦Fixed exploit with transition denials from the clinch.
♦Added pause to stamina regeneration on attacker if takedown is successfully denied.
♦Fixed bug where you would accidentally enter into the Guillotine takedown defense when you did not input that request.
♦Combo windows for successive inside leg kicks has been greatly reduced, while still leaving it responsive for combos from inside leg kicks to other strikes.
♦Strikes will now also interrupt leg kicks if landed in the early frames, similar to what we did with all other kicks in the last patch.
♦The game will now count how many times you throw the same strike in quick succession. Regardless of whether it is a head or body strike, lead or back strike, as long as it is the same strike type it will count. If you exceed a threshold, which is different per strike type, the combo speed, strike speed and damage will drop considerably. If you continue to throw that same strike, you will take a massive stamina hit as a result.
♦These combo limits and stamina penalties have been implemented in a way that we could hot fix them through live tuning in the future if they end up being too punishing or ineffective. Our hope is that these limits, along with our ability to respond quickly to feedback, will bring the game to a better state of balance.