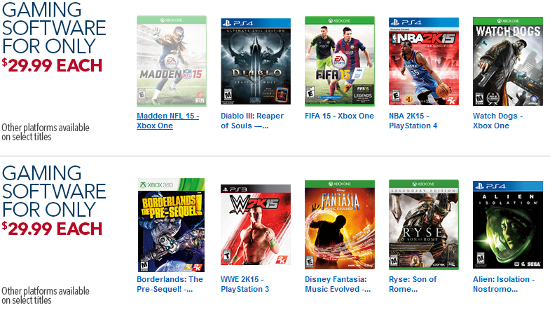 With just over two weeks until Black Friday various retailer advertisements have already slipped out providing an opportunity to prepare for the rush of deals ahead.
Typically the yearly sports games released in summer or early fall are found for $25-35 with Black Friday deals. Those have included NCAA, Madden, NHL, and FIFA. In some cases NBA 2K has been bunched in there as well though the later release of the game has meant it hasn't necessarily fallen as far as the others in some years.
Best Buy, Target, and Walmart ads are out now so expectations can be set. Amazon in recent years has tended to offer price matches as lightning deals rather than their run their own promotions and that is likely to be the case again.
Madden NFL 15, FIFA 15, and NBA 2K15 are highlighted as $30 deals with Best Buy. It's safe to assume NHL 15 will also be included in that but it's not high profile enough to feature in an ad. Walmart and Target are promoting the same games for $35. Whether Amazon plans to match the $30 or $35 probably won't be known until they put them live on the site. There will be other deals offered by the Microsoft Store but prices haven't been detailed yet.
A comprehensive Black Friday post with all the deals available at the various retailers (not just sports games but also the bigger general gaming ones) will go up shortly before the rush begins – which now has crept well into Thanksgiving.