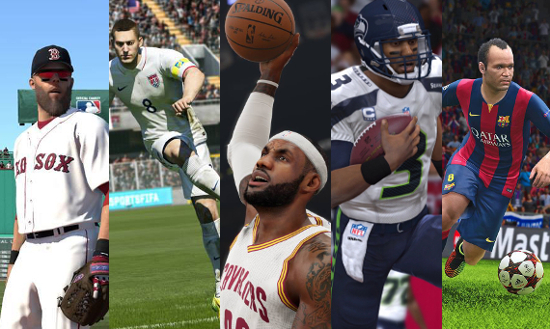 The voting for various categories in the Pastapadre Community Awards concludes with Best Sports Game. This will be the sixth year that the community will name a Sports Game of the Year. Previous winners have been MLB 13: The Show (2013), NBA 2K13 (2012), FIFA 12 (2011), NBA 2K11 (2010), and Madden NFL 10 (2009).
No game stood head and shoulders above the pack this year – and they all sure had their fair share of issues and deficiencies – but strong arguments can be made for five of the heavyweights. Which game should take home the big prize? MLB 14: The Show, FIFA 15, NBA 2K15, Madden NFL 15, and PES 2015 vie for the title. 
Authenticity and gameplay have always been the strengths of The Show and that was certainly the case with MLB 15. New features included Quick Counts, Player Lock, Dynamic Difficulty, and Community Challenges. The first launch on the PS4 went relatively smoothly with enhancements to the visuals the main draw. Online Play remained the Achilles' heel even despite a new Online Franchise mode which was essentially broken. No attempts were made to fix or improve it post-release and loading times worsened over the previous generation.
No series captures the big "moment" quite like FIFA. The atmosphere, crowd, and commentary have been top notch for years but FIFA 15 added in emotional reactions from players that really made a huge impact. The Premiere League licensing meant new authentic broadcast presentation and that further enhanced the emotional ties to both one-off matches and Career mode. Online play is sensational considering FIFA is a worldwide game and matches can include 22 individual people yet they run smoothly and reliably. Gameplay improvements were not as well defined however and certain frustrations remained or emerged. The series was arguably surpassed by PES in the gameplay department.
This year 2K Sports showed renewed effort to pleasing the community that has made the NBA 2K series such a huge success. Post-release support, a weakness in the past, was much better with NBA 2K15. The rate of roster updates increased dramatically and a December patch offered a lot of improvement to the game. Arguably this is the deepest game of the year in terms of content as well. Server issues plagued the first few weeks of release though and many won't forget that. Even now the unreliable servers continue to cause trouble for some people who just want to play online games or "always-online" modes.
New features for Madden NFL 15 included the ability to switch camera angles before the snap, a defensive camera angle, defensive line controls, and crowd-sourced play calling. On the surface that doesn't sound very inspiring but those additions made a big impact on gameplay and strategy. Well-balanced gameplay and reliable online play (with the online fully functional Online League system) were other highlights. However a number of legacy issues with gameplay remained, presentation is still in need of a huge upgrade in Franchise mode, and something needs to be done to improve the dreadful commentary.
This year the Pro Evolution Soccer franchise reemerged as a threat to the massively successful FIFA series. Gameplay was PES 2015's biggest strength, with many of the belief that it surpassed its rival in that regard. Where it wasn't quite as formidable was depth of modes (sufficient but not near what these other four games offer) and online play. Still it was great to see true competition – soccer being the only sport where that remains now.
Previously
♦Best Gameplay
♦Best Franchise Mode
♦Best Career Mode
♦Best Presentation
♦Best Online
♦Most Disappointing Game
♦Best Post-Release Support
♦Breaking Down the Awards Categories (Videos)
♦Best New Feature
♦Best Mobile Game
♦Best New or Non-Yearly Game