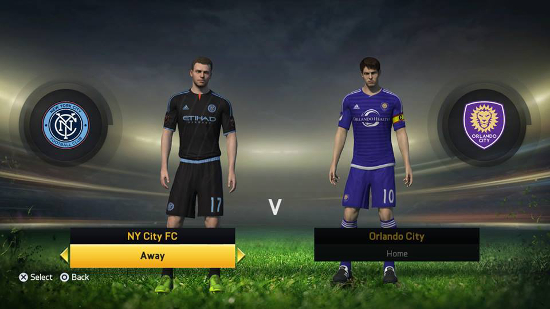 In November the kits and a few players from the new MLS teams that debuted in yesterday's season opener, Orlando City SC and New York City FC, were added to Ultimate Team in FIFA 15. Today EA Sports released a new patch on all consoles that adds the entire teams to the game for use in Kick-Off and Online matches as well as Career Mode. 
NYC FC comes in with stronger ratings of the two, specifically on the attack where they are 17 points higher, while Orlando has a slight edge in the midfield. Unfortunately there is no new commentary for the teams as they're referred to as only "home" or "away" by the announcers. The teams can be found in the "Rest of World" group.
In order to use one in Career Mode they have to take the place of a current MLS squad. Back when the Vancouver Whitecaps were added to FIFA 11 the same had to be done to use them in Career. With Chivas USA having folded they're the best option for a club to remove. When selecting the team to control at the start of a new Career there is an option to "Swap Teams". Choose the one you want out, then swap in Orlando or New York.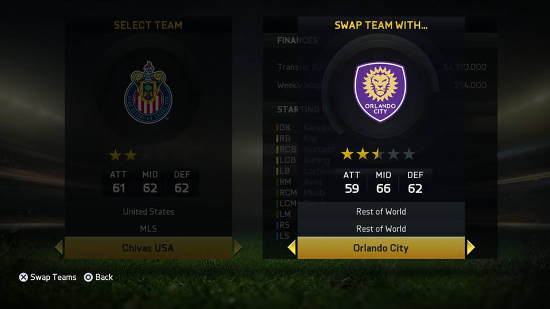 The patch includes more though the teams were obviously the main driver of the update:
♦Stability improvements to EASFC Match Day Challenges, Pro Clubs, and Online Seasons.
♦Fixed stability issue around requesting a substitution in Player Career.
♦Addressed issue where some were unable to unlock certain boot packs for their Virtual Pro.
♦Names of scouted players in Career Mode are now more reflective of their country of origin.
♦Stability improvements to Friendly Seasons in FIFA Ultimate Team Seasons.
♦Improved 'Compare Price' functionality in Ultimate Team when comparing consumables.