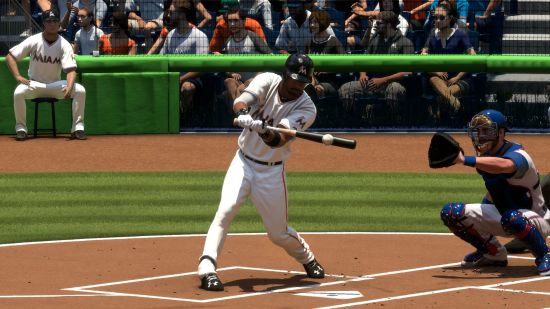 The May 25th roster update to MLB 15: The Show is out and it's brought with it the latest shake-up to Diamond Dynasty Mode. With the addition of the 'Baller' and 'Prime Time Player' packs and now this new roster update it's been a hectic week in the world of the virtual player marketplace and the team-building that goes along with it.
Some of the bigger changes in this update have to do with players moving in and out of Team Collections. Russell Martin (up 3 to 86) has left the Blue Jays Collection, while Edwin Encarnación has entered it by dropping from 86 to 84 overall. Dee Gordon continues his hot streak and moves out of the Marlins Collection with his jump from an 86 to an 89.
Bryce Harper is no longer required for the Nationals Collection as he's now a 'Diamond' having jumped from 90 to 94. That brings him even with Andre Dawson. Lastly, and in what represents the biggest change as far as challenge and/or cost in completing a Collection, Craig Kimbrel has dropped from a 96 to a 94. That makes him required for the Padres Collection. Thankfully I finished this one off last night!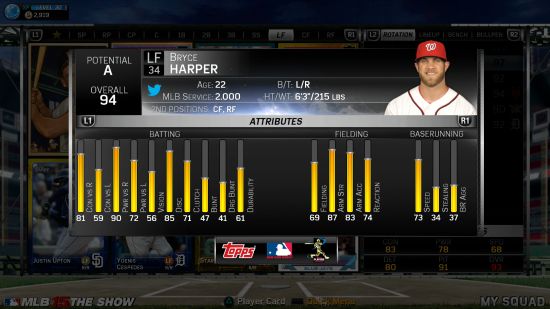 Notable upgrades:
Bryce Harper 90⇒94 (NL leader in HRs (16), BBs (44), OB% (.471) and SLG (.727))
Shelby Miller 83⇒87 (5-1 with a 1.50 ERA and 0.90 WHIP, leads the league with 2 Shutouts)
Jason Kipnis 84⇒87 (.339 BA /.408 OBP / .508 SLG)
Todd Frazier 84⇒87 (Tied for 2nd in the NL in HRs (13), 21 Extra Base Hits)
Brandon Crawford 79⇒83 (Hitting .298 and SLG .503 with highest WAR (2.5) for a SS)
After ending the 2014 season with an 0-13 stretch in the ALDS, Josh Hamilton found his name in the papers a lot in the offseason. He went through a shoulder surgery, a divorce, an admission of a drug relapse, and essentially a smear campaign by the Angels to try to get out of his contract. Now Josh Hamilton is back playing baseball where he spent his best year – Arlington, Texas.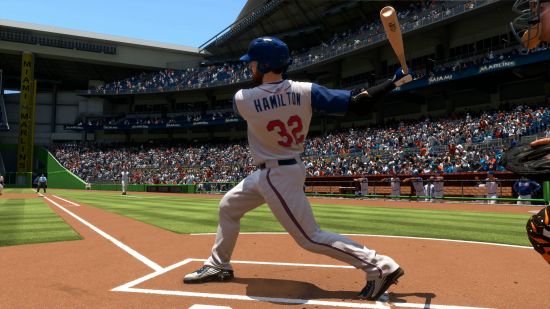 Yet somehow, after all of that, he started the season with an 81 Overall rating. Oddly enough, after recovering from his injuries and playing 12 games in AAA during a rehab stint where he batted .364, the team at Sony San Diego decided to knock 7 Overall points off his rating as he attempts his comeback.
Notable downgrades:
Robinson Cano 96⇒94 (#3 in the MLB in outs made, hitting .259 with 1 HR and 13 RBI)
Taijuan Walker 81⇒77 (Allowed 35 Earned Runs and 23 Walks in 43 Innings)
Josh Hamilton 81⇒74 (After only playing 89 games in '14, he is now returning from injury)
Keep an eye on these guys:
Josh Hamilton – 74 – While Hamilton just took a massive hit to his overall rating in this update, it could make him a prime candidate to pop right back up if he can get off to a hot start. In 12 AAA games for the Rangers he hit .364. Currently selling for 250-300 Stubs.
Drew Storen – 80 – The Nationals team has possibly been affected by the most ratings changes since the start of MLB 15, but Drew Storen hasn't had a bump yet. He's currently leading the NL with 15 Saves and a 0.89 ERA. Currently selling for 400 to 800 Stubs.
A.J. Burnett – 80 – Since his first start of the season, Burnett has had 8 consecutive Quality Starts, and sports a league leading 1.45 ERA. Not bad for someone who led the league in Earned Runs given up last year. Currently selling for 800 to 1,200 Stubs.
Thanks to T.J. Lauerman for taking a look at the recent changes in Diamond Dynasty. Follow him on Twitter, Twitch, and Youtube for more!