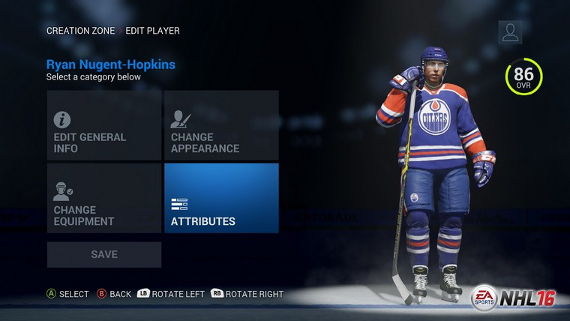 Much has been made of the necessity for EA Sports to offer player editing in the NHL series. Not only are there many who would utilize it, but the poor support in the way of roster updates, and the lack of player differentiation within, largely necessitates it being an option.
Despite that it appeared that player editing would not be a feature for a second straight year. The company had been notably avoiding the topic – which reasonably, after last year, led people to expect the worst – but now it appears during that time they were investigating whether they would be able to add it in time for NHL 16.
Yesterday EA announced Edit Player will be featured within NHL 16. Players can be edited from the Main Menu and in Be a GM, Playoff, and Season modes. General Information, Appearance, Equipment, and Attributes can all be altered.
In this case the community uproar seems to have worked as EA felt considerable pressure to get it in the product. That's in stark contrast to last year when they made a concerted effort to hide what was missing from NHL 15, and by the time people figured it out, it was too late for anything to be done. Patches were already planned to introduce some of the features but leaving the fans in the dark proved costly.