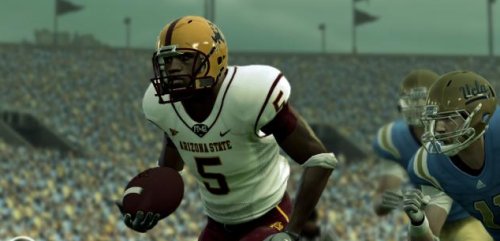 The second patch for NCAA Football 11 is now available. The patch delivers fixes in addition to what was addressed with the gameplay "tuner" set that arrived last week and a new one that is out now as well. The most notable fixes: The elimination of the QBs getting stuck in the hand-off animation and running backwards for a safety, uniforms will now get dirty, no more connection issues related to Season Showdown, and adjusted progression of punters and kickers in Dynasty mode. Continue on for the full list of changes and leave your thoughts in the comments!
Graphics
Uniform degradation has been fixed.
Fixed a graphical issue with TeamBuilder sideline home uniforms.
Fixed several camera bugs (pulled back on field goals, blurry cameras, and replays after a change of possession)
Fixed helmet numbers for Rice and Wake Forest
Online
Resolved an issue with Season Showdown, allowing us to turn it back on, so you're upload failure message every time you go in/out of game is gone!
Fixed a couple freezes related to lobbies
Fixed voice communication in Online Dynasty Hub on PS3
Fixed an issue that could lead to a disconnect in online play during play calling
Offense
Fixed an issue on a couple plays where the QB would miss a hand off and run backward
Reduced the chance that the ball will be knocked out when a receiver is hit at the time of the catch
Tuned the CPU ball carrier so that they will break to the outside more often when appropriate
Tuned how the CPU ball carriers utilize leans and special moves so that they won't be used in situations when they shouldn't (e.g. a HB in the open field will not put his shoulders down when running forward)
Tuned pass accuracy and the ability to lead a receiver
Tweaked sideline catch animations in the end zone so that they have a bit more room to play
Fixed an exploit where backwards passes could be overly effective
Defense
Fixed defensive reaction to pump fake to be more balanced. Skilled defensive backs will not be as easily fooled by pump fakes.
Tuned the Aggressive Defensive Line Gameplan to have more risk of jumping offsides
Removed a hesitation from defensive lineman pass rush on screen plays
Improved flat zone and deep zone coverage
Tuned man coverage reaction to the run
Adjusted CPU pursuit angles in some specific cases where they weren't being aggressive enough
Special Teams
Tuned onside kicks to be less predictable
Fixed an issue where catching a kicked ball after hitting the goalpost would result in kicking team getting the ball back
Fixed an issue where the punter could line up out of place
Adjusted cross bar collision on field goals and extra points
Other
Tuned CPU clock management where they would let the clock run out in some cases they shouldn't
Fixed a bug with time of possession tracking
Adjusted substitutions to be more intelligent (previously would see some weird players in the game with lots of aggressive no huddle)
Fixed a couple places where the wrong custom stadium sounds would play
Fixed a bug that caused Road To Glory to be simulated day by day near the end of the season
Tuned Kick Power and Kick Accuracy of progression of kickers and punters in Dynasty Mode
Fixed a couple infrequent game lock-ups