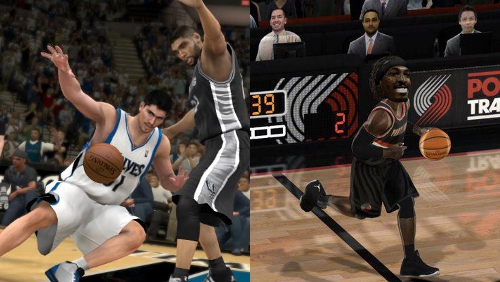 The anticipation and excitement of a returning NBA stretched from fans to game publishers as EA Sports and 2K Sports hoped to capitalize on a quasi re-release period and make up for some of the losses that had been incurred due to the league lockout. The extent to which they have been successful though has been limited. NBA 2K12 was able to get a decent sales bump out of it but in terms of support have come up short while EA flat out misled consumers by advertising a feature that has not been delivered. 
In terms of authenticity it was NBA 2K12 that felt the brunt of the impact from the lockout. The lack of roster movement from the previous season and no ability to add rookies became incredibly damaging – while even features like NBA Today were negated completely without a season to track alongside of – and a drastic drop in consumer interest was the result.
2K did an admirable job at first in trying to play catch-up with a series of roster updates that rolled out over a short period of time. Since opening day though there has only been a single roster update provided. Now over three weeks into the season and there are still several second round draft picks (including the likes of Isaiah Thomas) missing and other players not in the game that long ago should have been. That has also led to injured or suspended players remaining so in the roster long past their return date and those who have since gotten hurt who are still operating at full strength. Another feature advertised for 2K12 was how just about anything art-related in the game could, and would, be updated regularly – but that feature has yet to be capitalized on.
There really is no excuse for having just a single update over the first 23 days of the NBA season – especially when the feature is said to be "living rosters" and meant to represent the league on a day-to-day basis. There are those out there who have waited for fully up-to-date rosters to start their Association and still can't even do that in mid-January and no one would have predicted that would be the case.
Meanwhile EA Sports made it their marketing campaign for NBA Jam: On Fire Edition to tout added features which were anticipated due to their absence from the earlier NBA Jam reboot. Among those were the introduction of roster updates. EA has not only failed to provide an update but have actively avoided the topic at all costs – a clear sign that they have no intention to actually deliver on their promise and hope the topic just fades away. That isn't acceptable and I'll continue to shine a spotlight on the topic at every opportunity possible and can't recommend any digital-downloads from the company until support and communication in regards to them improves. Though not directly related the return of EA's sim series in fall 2012 isn't getting much help here from NBA Jam in terms of rebuilding trust in EA within the basketball gaming universe.
Both companies seemed to take a minimalist approach to the return of the NBA. 2K tried to take advantage of it marketing wise and the early string of roster updates brought about additional attention to the product – but since then they have clearly lost the motivation that drove the push of early support. EA on the other hand has decided to abandon NBA Jam hoping that consumers won't care that they didn't come through on an advertised feature presumably because the game was just $15. Regardless both sides have been a disappointment or worse and that is something that shouldn't be forgotten come next time they start with the marketing spin.