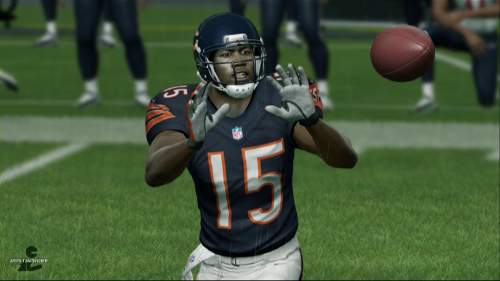 Having already run through the quarterbacks and running backs as the season reached the midway point attention this week can turn to wide receivers and where they stand as currently rated in Madden NFL 13.
Simply looking at stats will not tell the whole story of how a player can be rated of course. In the case of receivers there are aspects of their game such as blocking, awareness, route running, dropped passes, and attention level from defenses that won't necessarily translate to the typical box scores. There are factors outside of a receivers control that dictate how may opportunities they will have. Still in looking at statistical output it will at least provide an idea of how they are producing this season and whether that is far off from the overall ratings in a relative sense across the league or if they are framed properly.
Every receiver rated 76 and above was examined – an arbitrary cut-off after deeming that range to be players reasonably expected to produce consistently. The "average" receiver then from that group is rated 83 overall and has 37 catches for 490 yards and 3 touchdowns.

| | | | |
| --- | --- | --- | --- |
| Name | Stats | Rating | Status |
| Calvin Johnson | 60-974-2TD | 98 |  —– |
| Larry Fitzgerald | 51-585-4TD | 96 |  —– |
| Andre Johnson | 46-597-2TD | 96 |  Slightly Overrated |
| Brandon Marshall | 67-904-7TD | 95 |  Slightly Underrated |
| Roddy White | 54-823-4TD | 95 |  —– |
| Wes Welker | 66-810-2TD | 94 |  —– |
| A.J. Green | 58-820-9TD | 94 |  Slightly Underrated |
| Marques Colston | 47-652-7TD | 93 |  —– |
| Vincent Jackson | 36-769-6TD | 93 |  —– |
| Jordy Nelson | 40-532-5TD | 92 |  —– |
| Greg Jennings | 12-78-1TD | 92 |  Injured |
| Steve Smith (CAR) | 39-649-1TD | 92 |  —– |
| Reggie Wayne | 69-931-3TD | 92 |  Underrated |
| Victor Cruz | 60-743-7TD | 92 |  —– |
| Percy Harvin | 62-677-3TD | 91 |  —– |
| Hakeem Nicks | 27-390-1TD | 91 |  Vastly Overrated |
| Dwayne Bowe | 45-571-3TD | 90 |  Overrated |
| Julio Jones | 44-703-5TD | 90 |  —– |
| Miles Austin | 43-669-4TD | 89 |  —– |
| DeSean Jackson | 42-686-2TD | 88 |  —– |
| Mike Wallace | 39-525-5TD | 88 |  —– |
| Anquan Boldin | 40-548-1TD | 88 |  —– |
| Steve Johnson | 41-502-4TD | 87 |  —– |
| Santonio Holmes | 20-272-1TD | 87 |  Injured |
| Brandon Lloyd | 42-480-3TD | 87 |  Slightly Overrated |
| Antonio Brown | 42-499-1TD | 86 |  Slightly Overrated |
| Eric Decker | 48-598-7TD | 86 |  Underrated |
| Demaryius Thomas | 54-891-4TD | 86 |  Underrated |
| James Jones | 40-462-8TD | 85 |  Slightly Underrated |
| Sidney Rice | 34-475-6TD | 85 |  —– |
| Jeremy Maclin | 36-449-4TD | 85 |  —– |
| Kenny Britt | 27-312-1TD | 85 |  Slightly Overrated |
| Michael Crabtree | 44-510-4TD | 85 |  —– |
| Dez Bryant | 45-590-3TD | 85 |  —– |
| Malcolm Floyd | 39-572-3TD | 84 |  —– |
| Denarius Moore | 34-575-5TD | 84 |  —– |
| Pierre Garcon | 8-153-1TD | 83 |  Injured |
| Lance Moore | 40-585-2TD | 83 |  —– |
| Santana Moss | 24-313-5TD | 83 |  Slightly Overrated |
| Randall Cobb | 45-500-6TD | 83 |  Slightly Underrated |
| Torrey Smith | 31-548-7TD | 83 |  —– |
| Mike Williams | 31-568-5TD | 83 |  —– |
| Randy Moss | 15-254-2TD | 83 |  Vastly Overrated |
| Mario Manningham | 29-298-1TD | 82 |  Overrated |
| Nate Washington | 31-483-4TD | 82 |  —– |
| Brian Hartline | 49-741-1TD | 82 |  Underrated |
| Darrius Heyward-Bey | 24-371-3TD | 82 |  —– |
| Plaxico Burress | —– | 82 |  V.O. – Not in league |
| Danny Amendola | 43-497-2TD | 81 |  Underrated |
| Laurent Robinson | 24-252-0TD | 80 |  Overrated |
| Antonio Bryant | —– | 80 |  V.O. – Not in league |
| Terrell Owens | —– | 80 |  V.O. – Not in league |
| Jason Avant | 27-283-0TD | 79 |  Slightly Overrated |
| Jerricho Cotchery | 8-92-0TD | 79 |  Vastly Overrated |
| Davone Bess | 42-536-0TD | 78 |  Underrated |
| Josh Morgan | 29-309-0TD | 78 |  —– |
| Brandon Gibson | 31-428-2TD | 78 |  Slightly Underrated |
| Austin Collie | 1-6-0TD | 78 |  Injured |
| Justin Blackmon | 26-250-1TD | 78 |  —– |
| Andre Roberts | 40-540-5TD | 78 |  Underrated |
| Jerome Simpson | 11-137-0TD | 77 |  Overrated |
| Earl Bennett | 17-187-0TD | 77 |  Overrated |
| Robert Meachem | 13-197-2TD | 77 |  Slightly Overrated |
| Mark Clayton | —– | 77 |  V.O. – Not in league |
| Michael Jenkins | 28-307-1TD | 77 |  —– |
| Lee Evans | —– | 77 |  No appearances |
| Kevin Walter | 23-337-2TD | 77 |  —– |
| Nate Burleson | 27-240-2TD | 77 |  —– |
| Brandon Stokley | 28-332-4TD | 77 |  Slightly Underrated |
| Deion Branch | 9-80-0TD | 77 |  Overrated |
| Jabar Gaffney | 4-68-0TD | 77 |  Injured |
| Kendall Wright | 43-390-4TD | 77 |  Underrated |
| Golden Tate | 26-334-6TD | 77 |  Underrated |
| Donald Driver | 7-65-2TD | 77 |  Overrated |
| Julian Edelman | 13-100-1TD | 76 |  —– |
| Harry Douglas | 20-198-0TD | 76 |  —– |
| Eddie Royal | 16-134-1TD | 76 |  —– |
| Donnie Avery | 38-519-1TD | 76 |  Vastly Underrated |
| Steve Smith (STL) | 13-125-0TD | 76 |  Overrated |
| Domenik Hixon | 26-380-0TD | 76 |  Slightly Underrated |
| Devin Hester | 15-180-1TD | 76 |  —– |
| Mike Williams | —– | 76 |  V.O. – Not in league |
| Devery Henderson | 18-280-1TD | 76 |  —– |
| Roy Williams | —– | 76 |  V.O. – Not in league |
| T.J. Houshmandzadeh | —– | 76 |  V.O. – Not in league |
| Chad Johnson | —– | 76 |  V.O. – Not in league |
| Greg Little | 27-301-2TD | 76 |  Slightly Underrated |
| Titus Young | 32-359-4TD | 76 |  Underrated |
| Donald Jones | 32-380-4TD | 76 |  Underrated |
| Brandon LaFell | 24-396-2TD | 76 |  Slightly Underrated |
| Dexter McCluster | 29-258-1TD | 76 |  Slightly Underrated |