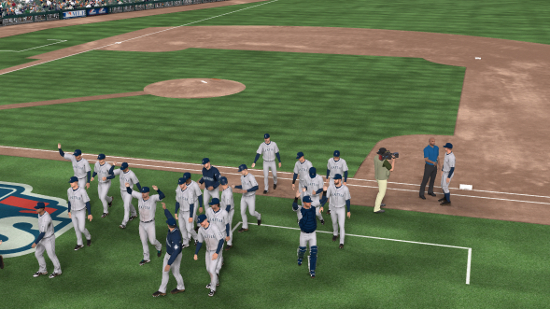 The first patch for MLB 13: The Show is scheduled to arrive on Tuesday the 26th and SCEA has delivered the full list of changes to expect. The most notable issues with the game included the CPU throwing the first pitch of at-bats too often down the heart of the plate and a hitch that would occasionally appear after the ball left the pitcher's hands. An attempt to address both problems have been made in the update. Continue on to check out all the info! 
•In offline and online games, there was an occasional hitch/millisecond delay just as the pitcher would release the pitch. This was reported with a frequency ranging from approximately 10%
•40% – The title was writing data to the HDD at this point, causing the brief, but noticeable hiccup in the gameplay. When the title writes to the HDD has been adjusted, and this hitch/delay will no longer occur. I.E. the pitch stutter was caused by the different Hard drive sizes. This is not something could have been found during normal QA testing because all testing is done using the same type's of PS3's.
•Franchise Fantasy Draft blank screen in Standard Def only. This was reported with a 100% frequency. In a Franchise mode, when performing a Fantasy Draft, the first round worked correctly. Every round after the first round would have a blank list of available players and drafted players. User could scroll through the empty list and choose players, but the player names were invisible. This was standard definition only. This has been fixed.
•In online games, there was a very rare crash when putting a Pinch Hitter into the game. This was reported with a frequency of approximately 2% – 10%. Multiple pinch hit substitutions in the same inning could eventually result in a crash. This was fixed.
•In a Franchise game, while playing with the Houston Astros, an On Screen Display showing division team comparisons would show the Houston Astros in their old National League division. This has been fixed.
•Challenge of the Week – In game real time leaderboard would disappear/reappear frequently. This was reported with a 100% frequency. In game leaderboard on the right side of the screen would flicker in and out on almost every pitch. This has been fixed.
•Online Game Rooms – Within a game room, we changed the terminology within Challenge Options pop-up. We removed the text "(Tracked)" as well as the text "(Unranked, Untracked)" from the top two challenge options within a game room. This was not a bug, but it caused some confusion with consumers. Safe text change that has been addressed.
•Online – Timing batting was available for users in an online game. This was reported with a frequency of 100%. This setting was never intended for online gameplay and has been removed.
•Within an online game created through a Game Room, users did not have the ability to Concede or Friendly quit through the Quit option. This was reported with a frequency of 100%. Concede/Friendly quit has been added to the Quit game menu.
•Offline gameplay – Following a Fast Forward in any gameplay mode, the Pitcher would throw a fastball down the middle with about 90% frequency. This has been fixed.
•Use Custom rosters in Leagues. Create some custom (created players) players and upload them to the rosters and form a league that way. Once the league is formed, make sure every teams roster can be generated. Specifically, any team that has a created player on that roster. Key step to this is when uploading a Roster, user must choose LOAD ROSTER FROM HD or LOAD ROSTER FROM VAULT
•Create a league (Load weekly roster during creation process) and have any user control the Minnesota Twins – After activating the league, go to Manage Roster (for the Twins) and generate lineups and rosters. At this point (In PROD), user would receive an error message and the lineups would never be generated. Error Message: (Sorry, we could not generate a valid roster/lineup/rotation with the given players) Key step to this is when uploading a Roster, user must choose LOAD WEEKLY ROSTER.
•Online user vs user games – Concede/Friendly Quit option has been added to the quit menu in games formed and played through Game Rooms
•Fixed an occasional hang that occured when loading a save file that was autosaved after purchasing budget in the Manage Contracts screen.
•Fixed an issue that would cause older players in season/franchise modes to regress at a faster pace than intended.
•Fixed an issue with the one and two handed follow through setting in Edit Player. Two handed follow through was not carrying over into game.
•Manager mode – All batters due up were being displayed as "L" for left handed batter. This has been fixed in HD displays.
•Manager mode – Pitcher would never pitchout until it was requested by the manager. Pitcher will now occasionaly pitch out when the time is appropriate, when user selects Play Ball.
•Fixed an issue where 2013 Hall of Fame players were not showing up.
•Post game celebartion following a win. SF Giants were walking to/from the wrong dugout. This has been fixed.
•Fixed a minor bug that affected Starting Pitcher energy in League games.
•End of inning music was missing in offline Fast Play games. This has been fixed.
•Fixed an issue that caused the Mercy rule to appear incorrectly at the end of certian online games.
•Twitter feeds fix: Twitter feeds should now show up with today's Tweets
•Updated player skill ranks – Using Play Now Rated games, users were staying at the Rookie level and not graduated to Veteran, All-Star, Hof, Legend. They should now move up and down based on Rating.
•Game reset fix for playoff games – Playoff games were unable to be reset. Now they can.
•Fixed league injury healing – When a player got injured if you set him to Inactive, "games returned" would never reduce. If you left him on the Active roster, it would count down. So doing it right punished users with a bug.
•DD: Arena card colors adjusted to match new number ranges – A+ cards should now be platinum, platinum cards should always be A+. Using the Recylcer should provide a platinum card.
•DD: Quality generation moved to after the aptitude is picked – Same test as above.
•DD: APT cards cannot be sold for wrong prices anymore – To repro, you can create a buy order for a high Aptitude DD card. You yourself (or another user) could put up a sell order with a lower Aptitude DD card and qualify for that Buy Order.
•DD: arena game summaries matched to histories by game_id
Significant Art changes
•Addition of new 2013 Post Season logos. These can be viewed throughout the front end, and in game easily in PostSeason mode. Logos can appear in the frontend bracket screens, load screen bracket screens, on the field logos, and during on screen display pop-ups.
•San Francisco AT&T stadium – There was a Minnesota Twins logo in the dirt of the pitching mound.
•Toronto Stadium – There was a large section of seating that appeared grey instead of blue (behind 1st or 3rd base). This was reported with a frequency of 100%. The art files have been changed to reflect the proper seat colors.
•Removed Atlanta Braves "Screaming Indian" batting practice hat.