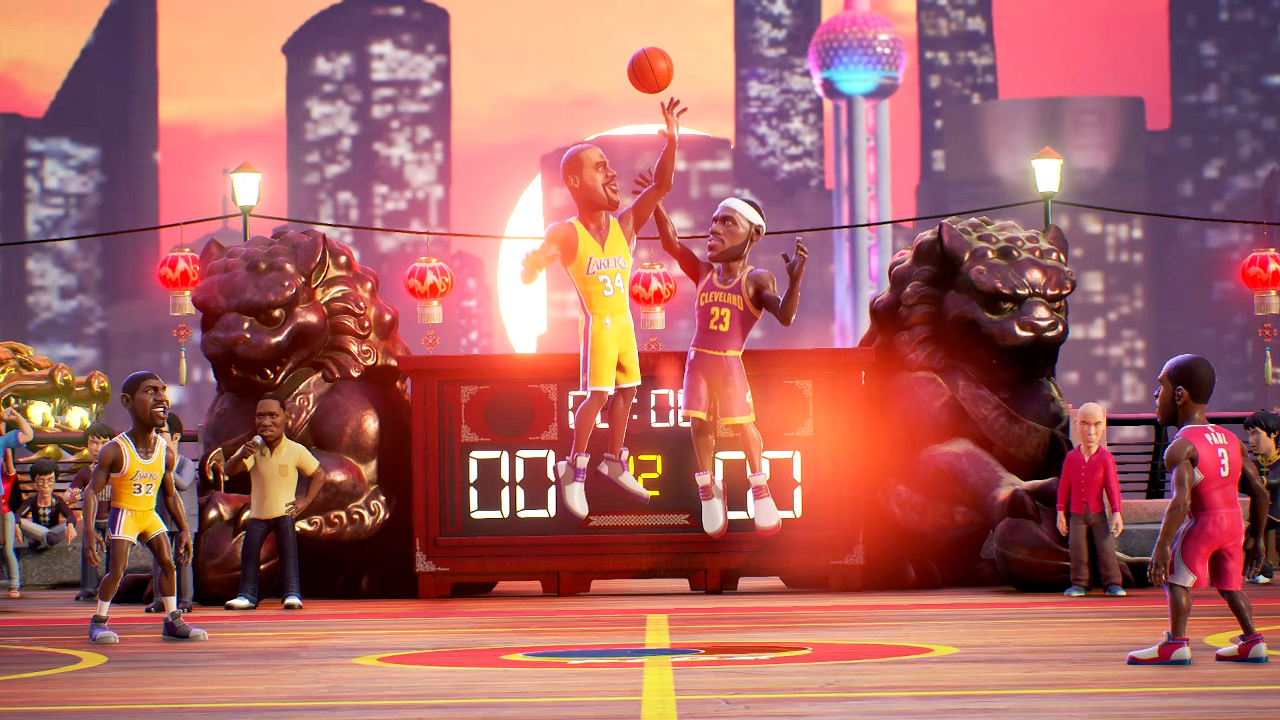 Two weeks ago when NBA Playgrounds released there was real potential identified in the game that was unfortunately held back by some gameplay and design missteps. Check out the full review on Sporting News and Press Row Podcast episode all about it. Now though it appears many of the problems with NBA Playgrounds are going to be addressed soon through the promised extensive post-release support.
Developer Saber Interactive has released the details of an upcoming patch for PlayStation 4, Xbox One, and Nintendo Switch. It's already available on PC and is currently in the process of certification with the console hardware manufacturers meaning it should arrive on all soon. Though not specifically cited, online play will hopefully be included for the Switch with this update as the developer is now weeks behind on delivering that functionality.
The most notable changes include the ability to play against friends online, penalties assessed for quitting online games, addition of a shot meter to assist with dunks and layups, increased difficulty on three-point shots, and reduction to the wait time for inbounding the ball after a score. Additionally 15 new players are being added to the roster. 
Additions
♦The Challenge Mode feature allows you to challenge other players to online matches.
♦Toxicity system/Disconnection Manager penalizes players who abandon matches in any other way than surrendering.
♦Five new versions of Shaquille O' Neal in various teams from his career (Boston Celtics, Miami Heat, Phoenix Suns, Cleveland Cavaliers, Orlando Magic)
♦New players: Dennis Rodman, Isaiah Thomas, Larry Bird, Giannis Antetokoumnpo, Kenny Smith, Gary Payton, Klay Thompson, Devin Booker, Tony Parker, Kemba Walker, Seth Curry, Tiny Archibald, John Starks, Tracy McGrady, Pete Maravich.
♦A shot-meter was added to help finding the perfect timing for shots, dunks etc.
Adjustments
♦Shots were adjusted to make the system more accessible and unified throughout all variations.
♦The inbound time was reduced to adjust it to the overall style of the game.
♦The steal action was adjusted further to better fit the intended gameplay and it is now possible to perform a steal action when behind an opponent.
♦3 pointers no longer fill lottery pick bar.
♦The difficulty of 3 pointers was increased.
♦Issues related to the strength of the force feedback effects were addressed.
♦The number of steals required for Las Vegas Challenge #2 was reduced to 10 (was 15).
♦The number of 3-pointers needed for Paris Challenge #4 was reduced to 6 (was 7).
♦The number of 3-pointers needed for London Challenge #1 was reduced to 6 (was 10).
♦The number of 3-pointers needed for Las Vegas Challenge #3 was reduced to 8 (was 12).