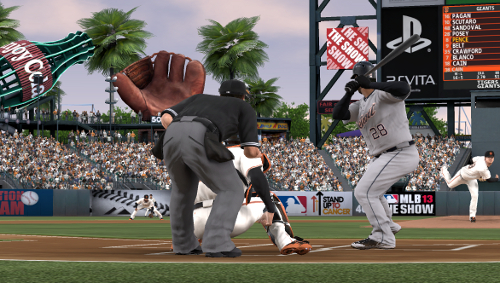 After weeks of collecting votes – the total of which exceeded 36K – it's time to announce the remaining winners of the Pastapadre 2013 Community Choice Awards. The categories being examined are Best Sports Game, Most Disappointing Sports Game, Best Presentation, and Best Online Play. For the results of the other categories make sure to check out the earlier article. Continue on for the winners and to leave any thoughts in the comments! 
Best Sports Game: MLB 13: The Show (42%)
No surprise here considering The Show went to the finals of the Best of the Generation Tournament. An already very good game was improved upon in smart ways that made it more fun without sacrificing realism. New features like Postseason Mode were also hits. NCAA Football 14 turned in a strong showing with 34% as the series comes to a close. FIFA 14 – winner of the Press Row Podcast Game of the Year – was able to draw 24% of the vote.
Most Disappointing Game: NBA 2K14 (58%)
The category that no game wants to "win". The NCAA Football series was named Most Disappointing in 2011 and 2012 and was able to turn it around for 2013 in what seemed a make-or-break year but ended up with the cancellation of the series due to legal proceedings. Here NBA 2K14, which had maybe the highest expectations of any sports game on the new systems, not only came up short but has to face severe damage having been done to the brand. Server issues coupled with an always-online design, crashing problems, an extremely harmful in-game economy of VC, bugs that prevent MyGM from progressing, terrible online lag, and more have turned many who previously considered themselves fans against 2K Sports. NBA Live 14 (29%) was awful but few expected much out of it while Madden NFL 25 (13%) may not be where fans want it to be but did not commit the egregious acts or have the problems of 2K14.
Best Presentation: NBA 2K14 (54%)
The NBA 2K series has dominated with its presentation over last generation and carrying into the new one. This win represents the only category that has been captured by the same series for all four years since the awards began. MLB 13: The Show (24%) and FIFA 14 (22%) were not able to put up much of a challenge against NBA 2K14.
Best Online Play: Madden NFL 25 (49%)
This is the second category that Madden NFL 25 has achieved a three-peat in with Best Franchise Mode being the other. A strong online experience given consistent and reliable performance combined with a fully-featured Online Franchise mode to make it difficult for other games to match. A case could have easily been made however for FIFA 14 given its incredible performance especially considering the worldwide audience and full Online Team Play. FIFA was able to capture 37% while NHL 14 got 14%.
Wins in 2013: MLB 13: The Show (3), Madden NFL 25 (2), NBA 2K14 (2), FIFA 14 (1)