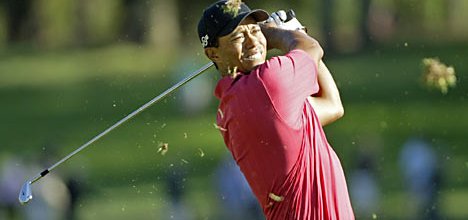 At the end of each year I like to look back and recount thoughts on stories that made an impact. Not only because they were big at the time but also because they have an effect on future development and actions that could be taken. These are the stories that were most significant in sports gaming during 2009 or that will most influence the genre going forward.
Tiger Woods
In late November Tiger Woods was involved in a rumored but plausible domestic dispute that led to driving into a tree outside his home. Though that was fishy it was the aftermath that has resulted in sponsors dropping him (add AT&T to the list today) or laying low. Suspicion of those events, 10+ mistresses, texts, voicemails, details about sex while on drugs, and an indefinite leave of absence from golfing has followed. EA Sports is in a position where it appears they'll have to drop him, even if just for the upcoming release this year with the potential to return in the future, and re-brand it PGA Tour Golf 11. 2K Sports is facing a similar though less dramatic situation with MLB 2K announcer Steve Phillips.
Lawsuits over NCAA Games
What at one time was considered little more than a nuisance the lawsuits vs the NCAA and EA Sports regarding the use of player likenesses in college games has become a very serious issue. Some would argue that NCAA Football 10 provided the first signs of a reaction with the game's troubled and inaccurate rosters. There very well could be a shift away from the delicate line that has been walked towards a more generic product. That would damage the viability of the college games and while the NCAA Football series would survive it would be unlikely any other college sports offerings would be considered.
NHL 2K Coming to an End
The news was broken here that the NHL 2K franchise has likely been canceled. Like the College Hoops series that was canceled for similar reason the market could not support two games. The current economy has caused these companies to reevaluate and put priority on high profile and profitable titles. EA Sports NCAA Basketball could be the next to follow though that would leave the market absent a college basketball game.
MLB License Blamed for Take Two Losses
MLB 2K9 was one of the most poorly received yearly sports titles in years and saw a drop in sales that represented consumers bailing on the series. The MLB license was then cited as the main reason the company has been losing money this year. Take Two has already stated the license will lose them $30-40 million in 2010. If they could get out of the license they surely would but it looks as though they'll complete the terms of the contract and likely cancel the series at that time unless a dramatic turnaround occurs.
EA and 2K Bicker Publicly
In what is really the last competitive ground for sports games in the US there was an intriguing but illogical back-and-forth spat between EA Sports and 2K Sports. It began when the community manager for 2K Sports criticized NBA Live 10 for its first patch and questioned the idea that community feedback was taken into account with it. The argument didn't make any sense considering the circumstances. EA later responded in poor fashion by posting a blog displaying criticisms of NBA 2K10 and showing the game being sold on Craigslist. Both sides were wrong with their actions in the dispute and thankfully neither has continued it since.
EA Sports MMA
UFC 2009 Undisputed made a huge impact in its introductory year as a franchise. EA Sports MMA has a much larger hill to climb considering the lack of the UFC license but they will attempt to break out in similar fashion in 2010. The effort seems to be there as EA is in a role they are generally unaccustomed to as the underdog. A rumored release date of September was a major letdown though given UFC will have already rolled through its sequel and the August-October frame is packed full of sports games already. It could easily get lost in the shuffle.
Roster Updates
The frequency and consistency of roster updates had been steadily improving over the past couple years but actually now saw its peak in 2008. This year saw almost every yearly title take a step back in regards to roster updates. Madden 10 started strong but fell off mid-season, NBA 2K10 was not very detailed and didn't even have updated rosters for online play until December, NBA Live 10 updated rosters but required ratings to be manually adjusted which was not done frequently, and MLB 2K9 went at one point months without updating. Hopefully this is not a sign of things to come in 2010.
Downloadable Games
2009 was the year where companies really started to look at downloadable offerings as a potential profit stream. EA Sports shifted its strategy with arcade style games and had hits with Madden NFL Arcade and 3 on 3 NHL Arcade. They'll likely expand that to other sports this coming year. 2K Sports also tried something new branching out the beginning of the My Player mode a month in advance which essentially made it a pay-for-demo.
Advertising
In-Game advertising has become a staple of sports gaming. For the most part gamers are accepting of it and actually find it can add to the immersive nature. However when the ads stand out as unrealistic it can be disruptive to the community. Madden 10's pop-up ads have recently been discussed. However nothing was near as egregious as MLB 2K9 disrespecting the sport it was attempting to replicate by altering stadium dimensions and adding non-existant signs in order to have additional space for advertising. Looking back that was probably an early indication of the low quality of the title and news to come regarding the finances around the MLB license.
Browser Based Gaming
Facebook and other browser based gaming is growing at a very high rate. A couple entries have shaken things up and look as though they are primed for success in the future. The two prominent ones are Quick Hit Football and Gridiron Live. Quick Hit even has been able to secure individual licenses to include a handful of current NFL players and coaches along with a ton of legends. EA Sports is also launching the (for now named) Tiger Woods PGA Tour Online which has been in beta for months. That is played without a download and through the browser.
Demos and Pre-Order Bonuses
There were several instances this year where the pre-order incentives from Gamestop upset the community. The largest was likely with Fight Night Round 4 which gave those who pre-ordered access to the demo (at least) two weeks earlier than those who didn't. It ended up really confusing for consumers who had three different demo release dates based on whether it was pre-ordered and what system they owned. Madden 10 also created a stir when pre-orders were provided a demo with five minute quarters and those who didn't pre-order got a ridiculously short demo with one minute quarters.
Seen as a problem to many gamers are also incentives that provide content which would have to be paid for otherwise such as the additional Teambuilder slots for NCAA Football 10 or boost pack for NHL 10. Basically I believe that most people are okay with the idea of pre-order incentives as long as they aren't being penalized for not being suckered into them. What happened this year was less about providing a bonus than it was about making people feel obligated to pre-order.
Take Two Possible Acquisition Target Again
The drama had through much of 2008 with EA attempting to purchase Take Two was largely absent this year. However late December brought news that Carl Icahn had purchased enough stock to where his influence could come into play. He has a reputation for pushing companies he has a stake in to sell. This is a situation that will need to be monitored as the state of 2K Sports hangs in the balance. An acquisition could lead to more support or could result in even more cuts.